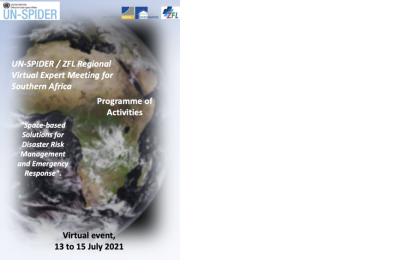 The United Nations Office for Outer Space Affairs (UNOOSA) Through Its Platform for Space-based Information for Disaster Management and Emergency Response (UN-SPIDER)
The Center for Remote Sensing of Land Surfaces of the University of Bonn (ZFL)
Tue, 13 Jul - Thu, 15 Jul 2021
Space-based Solutions for Disaster Risk Management and Emergency Response for Southern Africa
UN-SPIDER and ZFL are holding a regional virtual expert meeting for Southern Africa, a region vulnerable to hydrometeorological, geological, coastal and biological hazards and gravely impacted by droughts in recent years.
The objectives of this regional virtual expert meeting are:
To raise awareness regarding novel applications of satellite technologies in risk assessment, early warning systems, and disaster response operations;
To survey and examine efforts carried out by risk and disaster management institutions in Southern African countries on the use of space technologies and space-based information in disaster risk management, preparedness, response and recovery efforts;
To explore ways to enhance the use space technologies in disaster risk management and response and recovery applications in Southern Africa.
The regional virtual expert meeting for Southern Africa comprises of a total of 26 technical presentations. The details of these presentations are included in the Technical Background Document here.
Presentations
Session 1: 13 July 2021
Morning Segment
UN-SPIDER and ZFL: SPEAR: A Joint Initiative by UN-SPIDER and ZFL of UniBonn
Dechlan L. Pillay, National Disaster Management Centre of South Africa (NDMC): Space Based Solutions for DRM and Emergency Response
Afternoon Segment — Technical Presentations
Haris Kontors, Alexia Tsouni, and Stella Girtsou, National Observatory of Athens — IAASARS — BEYOND Center of Excellence: The FloodHub and FireHub Systems for Early Warning and Crisis Management
Silvia Pardi Lacruz, Brazil Regional Support Office: UN-SPIDER Recommended Practices for Drought Monitoring and Flood Mapping
Session 2: 14 July 2021
Morning Segment
David Ongo, Regional Centre for Mapping of Resources for Development (RCMRD): AfriGEO Initiative: Earth Observations for Africa
Andrie Jordan, Résilience Globale: Integrated Drought Risk Reduction and Management Plan for South Africa
Egline Tauya, Southern African Research and Documentation Centre (SARDC): Early Warning and Disaster Risk Reduction in Southern Africa: Integrating Space-Based and In Situ Data Including Local Knowledge
Fulvio Franchi, Syed Mustafa and Jean-Christophe Comte, Botswana International University of Science & Technology (BIUST): Spatiotemporal Mapping of Floods and Droughts in the Limpopo River Basin: New Insights From Satellite and Sediments Data
Peter Salamon, Copernicus: Copernicus Emergency Management Service — Overview
Gina Schwendemann and Anne Schneibel, Georisks and Civil Security Department, German Aerospace Center (DLR): Demand Driven Data Services for Humanitarian Aid (Data4Human Project)
Afternoon Segment — Technical Presentations on Copernicus Services
Peter Salamon, Copernicus: Copernicus Emergency Management Service: Global Flood Awareness System (GloFAS)
Paulo Barbosa, Drought Team, Copernicus: Droughts: European (EDO) and Global (GDO) Drought Observatories
Session 3: 15 July 2021
Norma Davila, National Autonomous University of Mexico: Multi-Temporal Radar Interferometry Analysis for Volcanic Activity Early Warning
Ciro Farinelli and Virginia Herrera, Airbus Defence and Space: Disaster Management Using Digital Elevation Model & Radar Weather Independent Earth Observation Data (SAR)
Jens Danzeglocke, Germany Space Agency (DLR): International Charter 'Space and Major Disasters' – Satellite-Based Support for Disasters Worldwide
Godstime James, National Space Research and Development Agency of Nigeria (NARSDA): The UN-SPIDER Regional Support Office and Disaster Management in Nigeria
Alexandru Badea and Ion Nedelcu, Romanian Space Agency (ROSA): Space Data and Technology in Support of Disaster Management — Infrastructure SPERO
Kamel Tichouiti, Algerian Space Agency (ASAL): Forest Fire Extent Mapping
Kristopher Bedka and Margaret Glasscoe, NASA Applied Sciences Disasters Programme: Satellite-Based Assessment of Flooding, Rainfall and Severe Convection Within the NASA Applied Sciences Disasters Program
Andreas Rienow, Ruhr-University Bochum, and Robert Eckardt, Friedrich-Schiller University Jena: EO Connect — Zero Hunger MOOC: The Role of Earth Observation in Achieving Zero Hunger