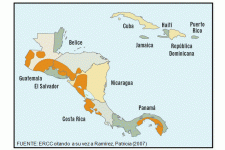 The more frequent and intense droughts that are taking place in the so-called "Dry Corridor" of Central America and the Dominican Republic; as well as the high vulnerability of rural communities, are forcing national and local governments in countries of these regions to implement a series of measures in order to respond to the impacts caused by those droughts. All countries have established efforts to monitor droughts through the national meteorological departments and inter-institutional efforts with ministries of agriculture, ministries of environment and natural resources and other government agencies; to assess the impacts of droughts and measures to cope with their impacts.
Taking note of the severe impact of droughts and of the fact that in most countries data on rainfall and field data from extensionists of the ministries of agriculture are the main parameters used to track the manifestation of droughts; UN-SPIDER has brought together several international, regional and national partners as a way to promote the use of space-based information on the effects of drought on soils and vegetation, as a way to strengthen national drought early warning systems.
The specific objectives of this project are to strengthen national drought policies based on the principles of integral risk reduction, and to enhance the capacity of ministries in agriculture and environment, civil protection agencies, meteorological observatories and other relevant institutions; as a way to generate and make use of space-based information on a permanent basis for the improvement of the DEWS routine operation.
Background Information
Agriculture is the immediate victim of drought disaster: - impacting crop area, crop production and farm employment whose implications are manifested by human interactions with the situation. Drought differs from other natural hazards in many respects -most complex and least understood of all disasters...
News and Advances
On this page, we post news from institutions in countries where the project is being executed and from the partners.
Methods and Tools
Within the SEWS-D project, two recommended practices on the generation of Vegetation Condition Index (VCI) maps and the Standard Vegetation Index (SVI) maps have been developed, which can be found in the recommended practices section.
Activities and Events
On this page, you will find information on recent and upcoming events conducted by the government agencies involved in this project and the partners.