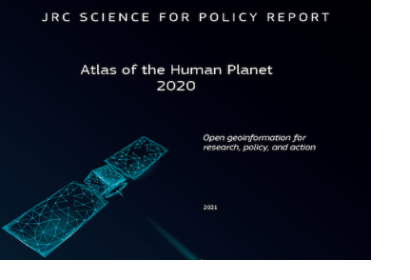 A new report outlines the impact of Global Human Settlement Layer (GHSL) data on various policy areas. The 2020 edition of the "Atlas of the Human Planet", recently published and launched virtually by the Joint Research Centre (JRC) of the European Commission as a deliverable to the Group on Earth Observations (GEO) Human Planet Initiative, explores the impact of GHSL data on various policy areas, including disaster risk management.
GHSL data refers to "global spatial information, evidence-based analytics and knowledge describing the human presence on the planet". This data relies on spatial information from Landsat 8, Sentinel-1 and Sentinel-2. It is mainly cost-free and openly accessible to the public. For more information on the GHSL, click here.
In "Atlas of the Human Planet" reports, GHSL data contributions are collected from users to assess their impact on various policy areas and their support to the respective international frameworks. The 2020 edition encompasses over 30 contributions from more than 100 users of the GHSL data sets from around the world. These contributions link to four policy areas and their international frameworks: disaster risk management (Sendai Framework for Disaster Risk Reduction); urbanisation (SDG 11 and New Urban Agenda); development (2030 Agenda for Sustainable Development); environment and sustainability (European Green Deal and UNFCCC Paris Agreement).
According to the report, GHSL data plays an important role in the field of disaster risk management. The report notes that GHSL data supports the full disaster management cycle. The report argues that in doing so, GHSL data contributes to the successful implementation of the Sendai Framework for Disaster Risk Reduction. It directly addresses the following global target of the framework: "substantially reduce the number of affected people (by disasters) ...". The report also indicates that "applications in disaster risk management benefit from reliability and wide spatiotemporal coverage of GHSL data", listing the application of GHSL data sets by the Copernicus Emergency Mapping Service as an example. For more information on the role of population and settlement data and its usability in disaster management, click here.