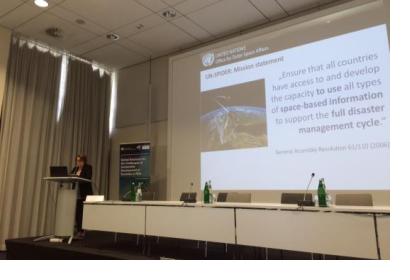 The United Nations/Germany International Conference on Earth Observation: Global Solutions for the Challenges of Sustainable Development in Societies at Risk was opening today in Bonn, Germany. The three-day event is bringing together 130 experts and participants from more than 30 countries in Africa, Asia, Europe, Latin America and the Caribbean to discuss the benefits of Earth Observation for sustainable development. The issues discussed include the Sendai Framework for Disaster Risk Reduction, the Sustainable Development Goals and the 2015 climate change agreement. The conference is organized jointly by UNOOSA, the German Aerospace Center (DLR) and the German Federal Ministry for Economic Affairs and Energy (BMWi).
The conference was opened by Juan Carlos Villagran, Head of Office of the UNOOSA/UN-SPIDER Bonn Office, Margitta Wülker-Mirbach, Head of Division at BMWi, and Lord Mayor of the City of Bonn, Jürgen Nimptsch.
In her keynote speech, UNOOSA's director Simonetta Di Pippo stressed the importance of satellite data in sustainable development, climate change and disaster risk reduction. "This conference, beginning today, is a vital component in UNOOSA's continuing work. The Conference is conducted as a way not only to contribute to the post-2015 development agenda, but also to bring together stakeholders to embark on joint efforts for facilitating the use of Earth observations for sustainable development. We will discuss how best to integrate Earth observations and space capabilities into national development programmes, how to identify strategies to capitalize on space technology-derived solutions to support global agendas, to leverage and foster partnerships and to make participants aware of the most recent developments in the context of integrated space applications."
Johann-Dietrich Wörner, Chairman of the Executive Board of DLR showed different examples of space-based applications in the context of sustainable development such as monitoring of deforestation or ice cap melting, but also applications for flood early warning, sustainable energy and humanitarian issues. "Space-based technology including Earth observation can significantly support the challenges of disaster management, sustainable development and climate change. DLR is developing systems and algorithms to process and archive the ever-growing volumes of data, and to ensure their timely availability. Radar interferometry, for instance, permits registration of ground displacements with millimetric accuracy. Movements of this kind occur during earthquakes, for example, like recently in Nepal."
In a special talk, Alexander Gerst, German astronaut of the European Space Agency (ESA) emphasized how the view from above can change one's perception: "One of the most valuable things that we can find in space is a new perspective on our planet. This perspective is one of a small blue planet with limited resources, surrounded by a paper thin layer of air and with a highly fragile ecosystem. We get a special view on the only place known in our universe where humankind can live and on which everything is connected."
Live reporting on the discussion is available on Twitter using #eo4dev.