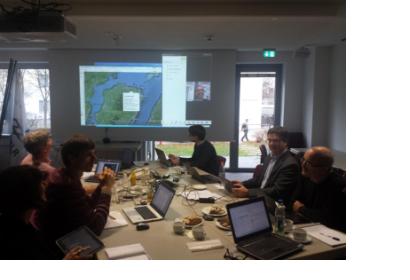 UN-SPIDER participated in the autumn meeting of the International Working Group on Satellite-based Emergency Mapping (IWG-SEM). The group convened in Oberpfaffenhofen, Germany on the premises of the German Aerospace Centre (DLR) on 25 and 26 November 2014. DLR is the current chair of the Working Group.
18 participants from international and national agencies and organizations joined the meeting in person or via telephone/video chat, including DLR, the European Commission's Joint Research Centre (JRC), UN-SPIDER, the US Geological Service (USGS), the World Bank, ITHACA, the Japan Aerospace Exploration Agency / Asian Institute of Technology and SERTIT.
The participants exchanged views and heard presentations about real-time mapping cooperation including the joint elaboration of a GeoRSS feed as well as about post disaster needs assessment and damage and loss assessments.
Another item on the agenda were the Emergency Mapping Guidelines, that the group had previously created in a joint effort. The participants agreed on a structure for an additional thematic section on floods and proposed an update of the general section by adding valuable data sources.
Once updated, the next version of the Guidelines will be available for download on the new IWG-SEM website, which is being hosted on the UN-SPIDER Knowledge Portal. Additionally to the Guidelines, this page includes general information about the group, about meetings and the members of the group. It will be continuously amended and improved.
More details and the minutes of the autumn meeting will be made available on the IWG-SEM website.