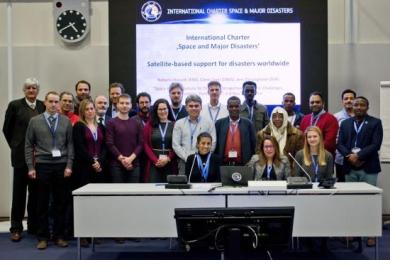 The UN-SPIDER Bonn office hosted a training session for Project Managers of the International Charter "Space and Major Disasters" on the UN Campus in Bonn, Germany, on 5 November 2019. The training was organized by the European Space Agency (ESA) and German Aerospace Center (DLR). It took place prior to the UN-SPIDER Bonn International Conference "Space-based Solutions for Disaster Management in Africa: Challenges, Applications, Partnerships".

More than 20 practitioners from Tunisia, Ethiopia, Ghana, Sudan, South Africa, Brazil, Belarus, France and Germany attended the training. One of the focal points of discussion was ways to more strongly involve African institutions in Charter activations and satellite-based support to disaster response.
The International Charter "Space and Major Disasters" is a worldwide collaboration through which space-based information products are made available for the benefit of disaster management. By combining Earth observation assets from different space agencies, the Charter allows resources and expertise to be coordinated for rapid response to major disaster situations. The Charter has been operational since November 2000, with over 630 activations in more than 125 countries.
The United Nations Office for Outer Space Affairs (UNOOSA) has been a cooperating body of the Charter since January 2003. Through its UN-SPIDER programme, UNOOSA is promoting the Charter, especially its Universal Access policy, in all its capacity-building and advisory support activities. UNOOSA can also submit activation requests on behalf of national disaster management agencies and in-country relief agencies of the United Nations.