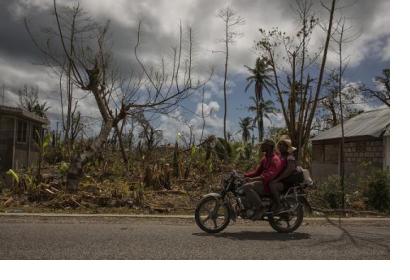 Disasters cause tremendous loss of lives and assets around the world. Over the last twenty years, more than 1.35 million people have died, while over 4 billion have been displaced, left homeless, injured or in need of emergency assistance as a result of disasters according to a new report by the United Nations Office for Disaster Risk Reduction and the Centre for Research on the Epidemiology of Disasters (CRED). Economic losses rose by 151 per cent compared to those suffered in the period between 1978 and 1997.
To address the challenge posed by disasters, the international community adopted the Sendai Framework for Disaster Risk Reduction 2015-2030 at the Third UN World Conference on Disaster Risk Reduction in March 2015 in Sendai, Japan. The Sendai Framework, which followed the Hyogo Framework for Action (HFA) 2005-2015, calls for a "substantial reduction of disaster risk and losses in lives, livelihoods and health and in the economic, physical, social, cultural and environmental assets of persons, businesses, communities and countries."
The Framework outlines seven global targets and four priorities for action to prevent new and reduce existing disaster risks:
Understanding disaster risk
Strengthening disaster risk governance to manage disaster risk
Investing in disaster reduction for resilience
Enhancing disaster preparedness for effective response, and to "Build Back Better" in recovery, rehabilitation and reconstruction
The Sendai Framework recognizes the importance of a multi-hazard approach to disaster risk reduction and makes explicit reference to promoting real-time access to reliable data making use of space and in situ information, including from geographic information systems (GIS) under Priority for Action 1, "Understanding disaster risk".
The United Nations Platform for Space-based Information for Disaster Management and Emergency Response (UN-SPIDER) works to support UN Member States in using space-based information in all phases of the disaster management cycle. Disaster risk reduction has been a key area of activity of the programme since its establishment in 2006.
Two examples of how UN-SPIDER facilitates disaster risk reduction and the implementation of the Sendai Framework, especially its priorities for action 1 and 4, are the programme's Technical Advisory Support (TAS) activities and its role in the Global Partnership using Space Applications for Disaster Risk Reduction (GP-STAR) for which it acts as the Secretariat.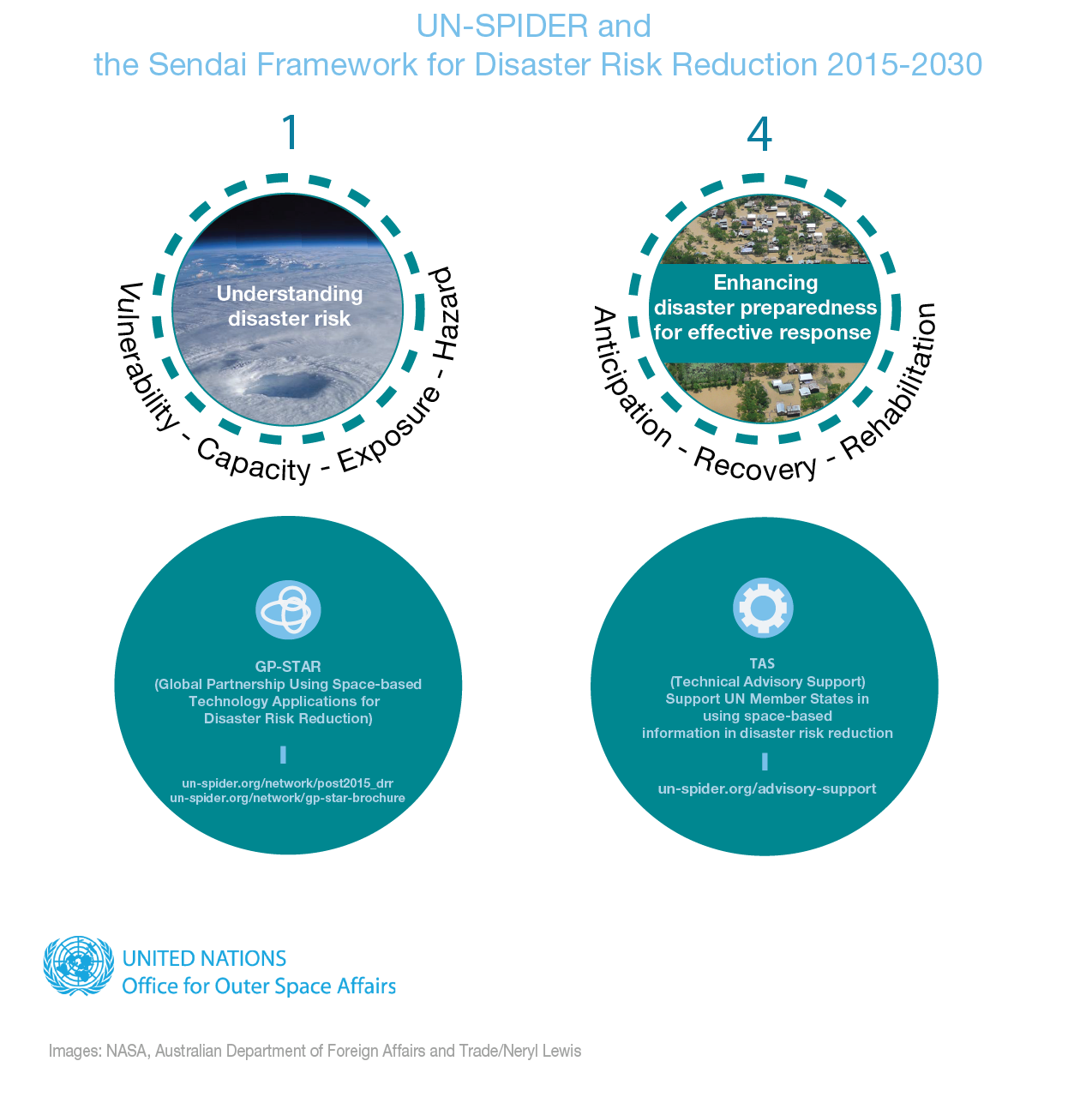 Through its Technical Advisory Support (TAS) activities, UN-SPIDER works with UN Member States, especially developing countries, to support them in institutionalizing the use of space-based based technologies for disaster risk reduction. UN-SPIDER carries out training activities on key issues, such as hazard mapping, and strengthens the technical and scientific capacities of civil protection agencies and other stakeholders and supports them in improving their understanding of risks. The programme also convenes the yearly "United Nations International Conference on Space-based Technologies for Disaster Risk Reduction", which takes place in Beijing, China.
Through its Knowledge Portal, UN-SPIDER raises awareness about the uses cases for space technologies in disaster risk reduction, and provides access to data and other resources, such as its Recommended Practices on mapping different hazards, that can assist Member States in better understanding risks to reduce the risk that hazards turn into disasters.
As a way to streamline regional and international cooperation, the Sendai Framework requests regional and international organizations to support countries and other stakeholders in the implementation of this framework, including the development of relevant sector policies and standards, monitoring mechanisms and the strengthening of capacities.
UN-SPIDER worked with other international and regional organizations, space agencies, and national civil protection agencies to launch the Global Partnership Using Space-based Technology Applications for Disaster Risk Reduction during the Sendai conference in 2015. GP-STAR aims to foster the use of Earth observation and space-based technologies at all levels by strengthening existing mechanisms and contributing to a better integrated and wider use of such technologies in disaster risk reduction efforts worldwide.
The Partnership published a digital booklet to showcase applications that support the different global targets and priorities of the Sendai Framework. These include the German Aerospace Center's (DLR) Global Urban Footprint, the South Asia Drought Monitoring System (SADMS) developed by the International Water Management Institute, as well as an overview of capacity development in space applications and geographic information systems that the United Nations Economic and Social Commission for Asia and the Pacific (ESCAP).
As UN Member States develop national and local disaster risk reduction strategies which are due to be in place by 2020 - a key target and deadline for implementation of the Sendai Framework - UN-SPIDER continues working with stakeholders around the world to facilitate the use of space technologies in their efforts.