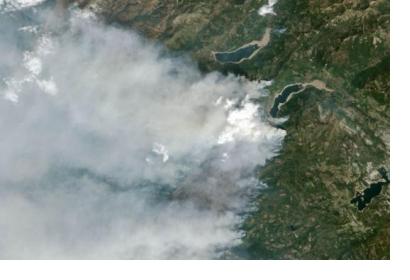 NASA has funded a new satellite-based fire detection tool in operation now at the U.S. Department of Agriculture (USDA) Forest Service (USFS).
The new tool uses high-resolution data from the Suomi National Polar-orbiting Partnership (NPP) satellite with a cutting-edge computer model to predict how a fire will change direction based on weather and land conditions. It will allow detecting smaller fires with precise detail and will help firefighters developing their tasks.
As explained in NASA's website, "compared to its predecessors, the enhanced VIIRS fire product enables detection every 12 hours or less of much smaller fires and provides more detail and consistent tracking of fire lines during long duration wildfires – capabilities critical for early warning systems and support of routine mapping of fire progression."
"The high-resolution data gleaned from VIIRS [Suomi NPP's Visible Infrared Imaging Radiometer Suite] are available in a short time period and significantly enhances the Forest Service's current strategic fire detection and monitoring capabilities. They are welcomed by the end users we serve in the interagency wildfire management community," stated Brad Quayle, program lead at the USFS Remote Sensing Applications Center in Salt Lake City, USA.
This fire detection product has been released in a cooperative framework established through a recent agreement between NASA and the USDA. The goal of this mutual effort is to increase collaboration in the areas of Earth science research, technology, agricultural management, and the application of science data, models and technology in agricultural decision-making.