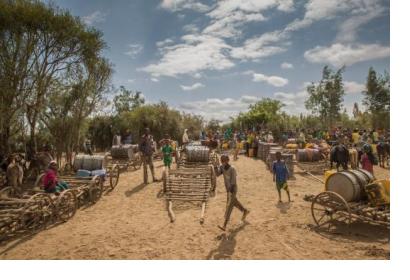 The United Nations, the World Bank, the International Committee of the Red Cross and prominent technology companies have jointly launched the new Famine Action Mechanism (FAM). The Mechanism uses a range of data including satellite imagery to predict famines, ultimately aiming to prevent them.
Launched on 23 September, the FAM is a still-evolving algorithm that will use analytics to identify areas that are most likely to experience extreme food shortages.
Google, Microsoft and Amazon Web Services and other technology firms are developing a suite of analytical models called "Artemis" to power the FAM. Artemis can process large amounts of data from several different sources, ranging from satellite imagery to mobile phones to social media. The system will use advanced Artificial Intelligence (AI) and Machine Learning to estimate and forecast worsening food security crises in real-time.
The UN says that a region reaches the conditions known as famine when the daily hunger-related death rate exceeds two per 10,000 people.
In 2017, more than 20 million people across north-eastern Nigeria, Somalia, South Sudan and Yemen faced a serious threat of famine and in South Sudan, a famine took hold. According to the World Food Programme, an estimated 124 million people in 51 countries are facing severe food insecurity in 2018.
Famines are notoriously difficult to predict as severe food shortages are hardly ever solely about food supply, the Washington Post explains. "A famine might be triggered by drought or some other climatic interference in crop production, but other powerful forces usually bring the scourge to full bloom: food price inflation, political instability, military conflict and even too much rain".
In a 2017 flagship report, FAO explored the negative effects of natural disasters on food security, showing how disasters affect crop growth, livestock health, fisheries and agricultural production. Droughts, for instance, cause water shortages and extreme heat stress in crops. Space-based information can support drought monitoring efforts and contribute to prevention and preparedness efforts.
World Bank officials said that the idea for the FAM came about in 2017 when they met with their UN counterparts in to evaluate their response to a recent food crisis in Somalia. Though they had responded to the crisis in a timely manner, they realized that given that securing funding was sometimes a long and bureaucratic process – it was necessary to develop an early-warning system. Such a system would allow funding to be secured as quickly as possible, ultimately saving lives.
"FAM will give a more accurate picture of food security in real time, triggering early action from donors and humanitarian agencies that will save lives and prevent further suffering," said UN Secretary-General António Guterres.
The FAM will be initially rolled out in five countries that exhibit some of the most critical and ongoing food security needs and it will be ultimately expanded to provide global coverage.
Linkages to the Famine Action Mechanism
The World Bank says that the FAM builds upon their experience and commitment to better forecast risks and prevent crises of all types before they occur. In July 2018, the World Bank Group Board endorsed the Global Crisis Risk Platform, a new platform for identifying risks before they become full- blown crises. The platform incorporates prevention and preparedness into client country development strategies and is being used to get ahead of global crises such as famine, Ebola and other natural and man-made disasters.
In 2017, the UN Office for the Coordination of Humanitarian Affairs (OCHA) launched a Center for Humanitarian Data to increase the use and impact of data in the humanitarian sector. As part of its partnership with the FAM, OCHA will advise the World Bank on the best way of implementing the funds once the model predicts how food insecurity may lead to famine.
The Food and Agriculture Organization (FAO) of the UN, which operates several early-warning systems, and set-up the Global Information and Early Warning System on Food and Agriculture, welcomed the FAM. FAO Director-General José Graziano da Silva said that primary data collection and information systems at the country-level remain essential and need heavy further investment.
The FAM aligns with some of the findings of the newly released UN report, The State of Food Security and Nutrition in the World 2018, such as its call for greater efforts to build climate resilience through policies that promote climate change adaptation and mitigation as well as disaster risk reduction.
The FAM builds upon the UN's overall efforts to prioritize prevention, and its efforts to address risks more systematically. It also aligns with the Security Council Resolution 2417 adopted in May 2018 on the links between conflict-induced food insecurity and the threat of famine.
This article was contributed by Jack Kavanagh, UN Online Volunteer mobilized through www.onlinevolunteering.org.