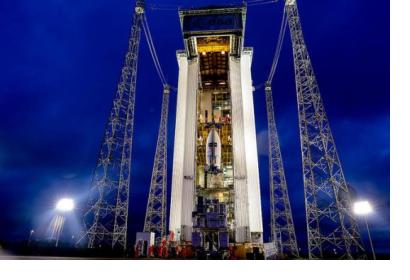 Sentinel 2A, the new satellite developed by the European Space Agency (ESA) and Airbus, was successfully launched from the European Spaceport in Kourou (French Guiana) on 23 June 2015 at 01:52 GMT. It separated from the stage into flight 54 minutes after the launch, its solar panel has already been deployed but it will only begin its missions in three or four months.
Sentinel 2A is the second satellite of the European Union's Copernicus programme, weights 1.1 tonnes and was developed with a budget of 7.500 million euros, the highest for a civil Earth Observation satellite. It is specifically designed for environmental monitoring and will provide colourful high resolution imagery in 13 spectral bands.
It will allow displaying new land cover and change detection maps, disaster maps and leaf area index to chlorophyll content and other biogeophysical data. This would facilitate locating sites for refugee camps in humanitarian crises, monitoring the destruction or growth of forests and estimating fertilizer and water needs for efficient crop production.
Sentinel 2 satellites will be added to Sentinel 1, which studies the Earth with a radar system that allows observation even when night and clouds cover the surface. Once its twin, Sentinel-2B, is operating next year, the satellites will be able to fly over and image the same part of Earth every five days.