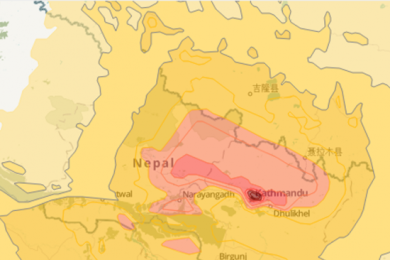 On Saturday, 25 April 2015 a 7.8 magnitude earthquake hit Nepal, India, Bangladesh, and India with several aftershocks following on Saturday and Sunday. GDACS estimates that 6.5 million people are affected. Several actors from the satellite and mapping communities have become active in supporting response efforts in the region; particularly in Nepal, which was most severely affected.
Several actors of the crowdsource mapping community have also become involved. Tomnod, a service supported by satellite imagery provider DigitalGlobe, has issued a call to the community to help search high resolution satellite imagery for damaged buildings, major destruction and damaged roads. An overview of other crowdsource mappers, including the Humanitarian OpenStreetMap or Crisis Mappers, is provided here.
UN-SPIDER has compiled all relevant sources and links to datasets on a dedicated page. Additionally to the mechanisms listed above, these also include satellite imagery and reference maps.