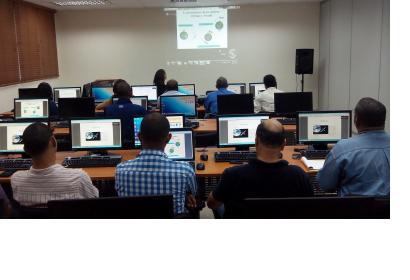 UN-SPIDER's Regional Support Office, the Argentinean Space Agency CONAE, is providing a two-phase technical training course to the inter-institutional working group EIGEO in the Dominican Republic in order to strengthen its members' capacities to use satellite imagery for disaster response.
The first phase of the training course is taking place from 10 to 14 March 2014 with an introduction to optical image processing and its application in emergencies. The second phase is scheduled from 31 March to 3 April 2014 with an introductory course to radar images processing and its application in emergencies. These courses are taught by Professor Mario Alberto Lanfri of CONAE remotely from Argentina via Google Hangout. Estrella Melero, a volunteer from the Australian Volunteers for International Development (AVID) program. is supporting CONAE as the on-site-trainer.
The images used in this training are covering the Dominican Republic and were provided by the Geological Survey of the United States (USGS), as well as by the Centre National d'Etudes Spatiales (CNES) of France.
This training course is a follow up activity to a previous course held by UN-SPIDER and its Regional Support Offices CATHALAC and IGAC in May 2013.
EIGEO is an inter-institutional Geo-Spatial Information Team for Risk Management and incorporates nearly 15 government ministries, agencies and university centers. It is headed by a representative of the National Emergency Commission (Comisión Nacional de Emergencias).