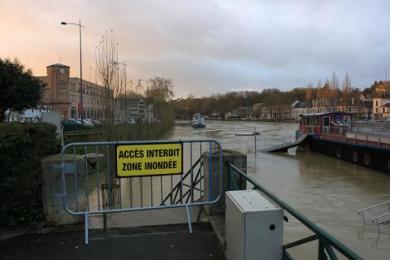 The Copernicus Emergency Management Service has been activated on 23 January due to floods in northern France. Paris and the northeastern part of France are affected as a result of prolonged heavy rains causing a rise of the rivers Seine, Rhine and Ill. Authorities from Meteo France emitted an orange alert for floods. At the moment, 20 departments in northern and eastern France are under orange alert advising citizens to be cautious. While in Paris the Seine river overflowed its banks on Tuesday, only small areas close to the river were affected. French flood risk information system Vigicrues indicated that the maximum level could go up to 6.2 meters during this weekend.
Post-event damage assessment maps
On 18 and 19 January Germany, Netherlands and Belgium were hit by winter storm Friederike causing several damages on properties, disrupting transportation and leading to power cuts in many areas. In Germany was reported that this storm was one of the strongest since storm Kyrill in 2007. On January 24 the Copernicus Emergency Management Service (EMS) was activated by the German Federal Office of Civil Protection and Disaster Assistance(BBK). Storm Frederike damaged forests from the states of North Rhine-Westphalia and Lower Saxony in the West to Brandenburgia and Saxony in the East. The Areas of Interest (AoIs) of the activation have been established in such a way as to support the assessment of forest damage. The post-event forest damage assessment maps will be available at on the website of
EMS Activation EMSR266
.