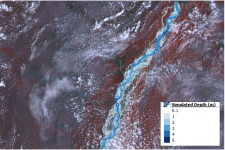 The objective of this practice is to carry out a flood hazard assessment, identify potential flood-prone areas and potentially affected infrastructure namely roads, settlements, agriculture and in-land areas etc. against a flood hazard of particular return period i.e. 2, 5, 10, 25, 50 and 100 years. This information can be used by disaster management agencies and other stakeholders to plan flood rescue, relief and mitigation activities.
River Indus (Chashma Barrage D/S to Taunsa Barrage U/S).
The practice was initially applied to the 2010 floods in the Swat River, Pakistan, and was later on used for probabilistic flood hazard assessments in the Swat valley, Pakistan.
This practice can be applied to the two dimensional (2D) riverine flood events having unsteady flow dynamics in any part of the world. However, calibration parameters may vary within country or region due to the river bed and floodplain geomorphology.