Honshu, all Japan coastline
A magnitude 7.9 earthquake occurred at 2:46 pm on March 11, 2011 near the east coast of Honshu, Japan. Tsunami warnings are issued along the Pacific coast line. (source: http://glidenumber.net/glide/public/search/details.jsp?glide=19439&record=1&last=4953)
Japan has suffered a massive earthquake and tsunami in its northeast coast. Meanwhile, nations in the western pacific from Indonesia to the Philippines are bracing for the possibility of tsunamies of their own. (source: http://www.dw-world.de/dw/article/0,,14904492,00.html)
UNOOSA/UN-SPIDER
Email: un-spider [at] unoosa.org
Link: http://www.un-spider.org
Satellite imagery and maps on Honshu earthquake and tsunami, Japan.
You have found further data sources? Please get in touch with us: unspider [at] unoosa.org (subject: Data%20sources%20Japan%20earthquake)
Status Update: 07 March 2012
---
Page content:
1.1. Space based rapid mapping products
1.2. Institutional links to further mapping products, geodata, geolinks and databases
please click twice on links above to jump to a section
---
Japan earthquake overview by German Aerospace Center (DLR), Center for Satellite Based Crisis Information (ZKI) (click for high resolution image and KML file)
Click on the Google Earth screenshot to get an overview of recent map products (Google Earth required):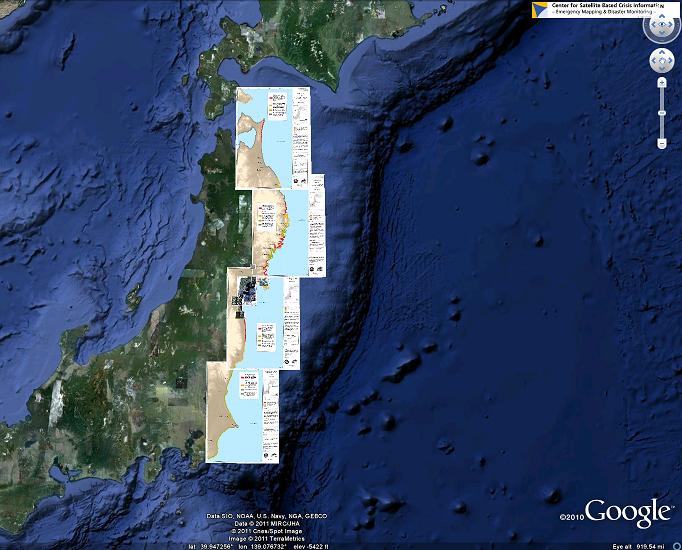 A magnitude 7.9 earthquake occurred at 2:46 pm on March 11, 2011 near the east coast of Honshu, Japan. Tsunami warnings are issued along the Pacific coast line. (source: http://glidenumber.net/glide/public/search/details.jsp?glide=19439&record=1&last=4953)
Japan has suffered a massive earthquake and tsunami in its northeast coast. Meanwhile, nations in the western pacific from Indonesia to the Philippines are bracing for the possibility of tsunamies of their own. (source: http://www.dw-world.de/dw/article/0,,14904492,00.html)
In the aftermath of the earthquake in Japan the German Aerospace Center (DLR) is actively involved in emergency mapping efforts in the frame of the International Charter Space and Major Disasters.
In case of any further question concerning DLR's activities please contact the responsible press relations officer, Mr. Andreas Schuetz. Tel: +49 171 3126466; email: andreas.schuetz [at] dlr.de
---
1. Emergency Mapping
1.1 Space based rapid mapping products
1.2 Institutional links to further mapping products, geodata, geolinks and databases
2. Space-based Resources
Source
Satellite/Instrument
Date
Area
Type
Status
Product/ Link
Deimos Imaging
Deimos-1
2010/2011
Various areas
pre/ post- disaster
delivered
FTP available on request
18.Mar 2011
Sendai area
post disaster
delivered
FTP available on request
DigitalGlobe
DigitalGlobe
13. Mar 2011
Coastal Area between Minamisoma and Iwaki (Including Fukushima)
post disaster
delivered
Google Earth
13. Mar 2011
Fukushima, Kengaya, Sendai
post disaster
delivered
JPG
12. Mar 2011
Area between Sendai and Ishinomaki
post disaster
delivered
Google Maps
12. Mar 2011
Area between Osaki and Sendai
post disaster
delivered
Google Maps
12. Mar 2011
Area between Hitachi annd Choshi
post disaster
delivered
Google Maps
GeoEye
IKONOS
13.Mar 2011
Minamisanriku
post disaster
delivered
Google Earth
12. Mar 2011
Kamaishi
post disaster
delivered
Google Earth
12. Mar 2011
Kushiro
post disaster
delivered
Google Maps
12. Mar 2011
Tokyo
post disaster
delivered
Google Maps
12. Mar 2011
Fukushima
post disaster
delivered
Google Maps
12. Mar 2011
Yokohama
post disaster
delivered
Google Maps
12. Mar 2011
Sendai
post disaster
delivered
Google Maps
12. Mar 2011
Oshika, Peninsula
post disaster
delivered
Google Earth
12. Mar 2011
Minamisoma
post disaster
delivered
Google Earth
12. Mar 2011
Iwaki
post disaster
delivered
Google Maps
12. Mar 2011
various areas
post disaster
delivered
ScanEx (JPG)
GeoEye, DigitalGlobe, GEMDAS, NASA
various
13. Mar 2011
Several Areas
post disaster
delivered
Google Earth
NASA
various
12. Mar 2011
Sendai
post disaster
delivered
JPG
EO-1
12. Mar 2011
Sendai Area
post disaster
delivered
GeoTIFF
MODIS Terra, MODIS Aqua
14. Mar 2011
Japan
post disaster
delivered
JPG
NASA Goddard Space Flight Center
EO-1
18. Mar. 2011
Sendai (snow cover)
post disaster
delivered
ALI Level 1G (GeoTiff), Hyperion Level 1R 600+Mbyte HDF file
NDRCC
HJ-1A; HJ-1B
13. Mar 2011
East Coast of Honshu
post disaster
delivered
FTP available on request
Dubaisat
Dubaisat
19. Mar. 2011
Sendai area
post disaster
delivered
Tiff, Details, Meta
19. Mar. 2011
Sendai area
post disaster
delivered
Tiff, Details, Meta
19. Mar. 2011
Sendai area
post disaster
delivered
Tiff, Details, Meta
19. Mar. 2011
Sendai area
post disaster
delivered
Tiff, Details, Meta
19. Mar. 2011
Sendai area
post disaster
delivered
Tiff, Details, Meta
16. Mar. 2011
Fukushima
post disaster
delivered
Tiff, Details, Meta
28. Mar. 2011
Fukushima
post disaster
delivered
Tiff, Meta
14. Mar. 2011
Chiba-Oil
post disaster
delivered
Tiff, Details, Meta
USGS
LANDSAT ETM+
13. Mar. 2011
Sendai area
post disaster
delivered
FTP link
LANDSAT TM
13. Mar. 2011
Sendai area
post disaster
delivered
FTP link
ASTER
14./19. Mar 2011
Sendai area
post disaster
delivered
FTP link
IKONOS, GeoEye, Qucikbird, WorldView
various
Sendai area
post disaster
delivered
FTP link (available on request)
Image coverage shapefiles
various
Sendai area
post disaster
delivered
FTP link
3. Earthquake/Tsunami Warning Centers
---
4. Emergency Response, Situation Reports
---
5. Media
---
6. Coordinates of affected areas (AOI)
Google Earth KML: Estimated Tsunami Arrival Time, based on NOAA forecasts: http://bit.ly/gbRwMM
---
7. Contact
UNOOSA/UN-SPIDER:
E-Mail: unspider [at] unoosa.org