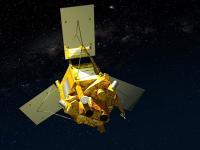 SPOT-6 (Système Pour l'Observation de la Terre) is an optical satellite built by Astrium and was successfully launched on September 9, 2012 with SPOT 7 launched on June 30, 2014.
The new generation SPOT-6 and 7 optical satellites feature technological improvements and advanced system performance allowing continuity in the SPOT constellation through to 2024. It is capable of imaging the Earth with a resolution of 1.5 meter panchromatic and 6 meter multispectral (blue, green, red, near-IR) and will offer imaging products to customers in defense, agriculture, deforestation, environmental monitoring, coastal surveillance, engineering, oil, gas and mining industries.
The ability to respond accordingly to changing weather conditions, a reduced timeline for urgent tasking requests and an acquisition capacity of 3 million sq km per satellite shows an increased data capacity and simplified data access, major improvements in this generation of SPOT satellites.
SPOT-6 and 7 will operate on a co-orbit with the very high resolution Pleiades 1A and 1B constellation creating the ideal combination between specific targeted detail and broader regional coverage.
Instrument: 2x NAOMI (New AstroSat Optical Modular Instrument)
- 60km swath width
- 5 VIS/NIR channels including one panchromatic. Two units, side-by-side
- push broom
exploring the Earth's resources, detecting and forecasting phenomena involving climatology and oceanography, and monitoring human activities and natural phenomena