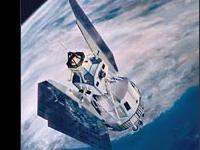 Landsat 2 was launched into space onboard a Delta 2910 rocket from Vandenberg Air Force Base, California on January 22, 1975, two and a half years after Landsat 1. Originally named ERTS-B (Earth Resource Technology Satellite B), the spacecraft was renamed Landsat 2 prior to launch. The second Landsat was still considered an experimental project and was operated by NASA.
Landsat 2 carried the same sensors as its predecessor: the Return Beam Vidicon (RBV) and the Multispectral Scanner System (MSS).
On February 25, 1982 after seven years of service, Landsat 2 was removed from operations due to yaw control problems; it was offically decommissioned on July 27, 1983.
Instruments:
Return Beam Vidicon (RBV)
Multispectral Scanner (MSS)

acquisition of global, seasonal data in medium resolution; land observation