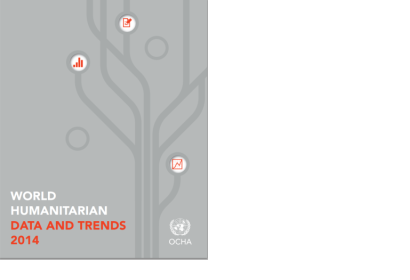 The Policy Analysis and Innovation Section of the UN Office for Coordination of Humanitarian Affairs (OCHA) released the World Humanitarian Data and Trends 2014 report, dealing with humanitarian needs and assistance in 2013, as well as humanitarian trends, challenges and opportunities in the global context.
The report illustrates how while 2013 witnessed roughly the same number of disasters as 2012, the number of affected people decreased from 124.5 million in 2012 to 97 million in 2013.
This decrease can be linked to improved preparedness measures, the role of national disaster management agencies and innovative technologies.
Furthermore, data shows that while the overall number of large-scale natural disasters has slowly decreased, disasters associated with the effects of climate change, such as storms and floods, increased by 10 occurrences a year when compared with 2012.
Among the opportunities to enhance humanitarian operations, OCHA's experts identified remote sensing technology through satellites as useful in delivering "unique operational benefits" in relation to refugee camp mapping, flood monitoring, damage assessments, conflict analysis, and response planning.
Some examples of remote sensing applications in humanitarian assistance are: Turkey, 31 March 2013 (UNITAR/UNOSAT); Syria, 2 August 2013 (AAAS Geospatial Technologies and Human Rights); Nigeria, 5 Novermber 2013 (UNITAR/UNOSAT); CAR, 26 November 2013 (UNITAR/UNOSAT).
Also, the report highlights the importance of emerging trends such as crowdsourced mapping and social media as part of disaster response.