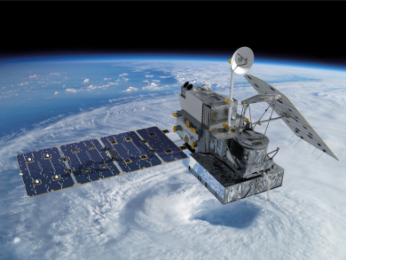 The American and the Japanese Space Agencies, NASA and JAXA, will jointly launch a new Earth Observation satellite in February, as was announced on 26 December 2013. The Global Precipitation Measurement (GPM) Core Observatory satellite will serve environmental research and weather forecasting. It will be launched on 27 February 2014 with a Japanese H-IIA rocket from JAXA's Tanegashima Space Center.
NASA reported: "GPM is an international satellite mission that will provide advanced observations of rain and snowfall worldwide, several times a day to enhance our understanding of the water and energy cycles that drive Earth's climate. The data provided by the Core Observatory will be used to calibrate precipitation measurements made by an international network of partner satellites to quantify when, where, and how much it rains or snows around the world."
"Launching this core observatory and establishing the Global Precipitation Measurement mission is vitally important for environmental research and weather forecasting," said Michael Freilich, director of NASA's Earth Science Division in Washington. "Knowing rain and snow amounts accurately over the whole globe is critical to understanding how weather and climate impact agriculture, fresh water availability, and responses to natural disasters."