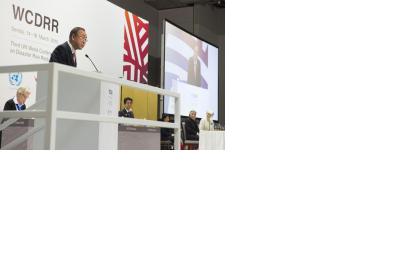 The Third United Nations World Conference on Disaster Risk Reduction (WCDRR) was kicked off today in Sendai, Japan. It will be held from 14 to 18 March 2015 in Sendai City, Miyagi Prefecture. Several thousand participants including world leaders are attending the event as well as related events linked to the World Conference under the umbrella of building the resilience of nations and communities to disasters.
In his opening remarks, UN Secretary General Ban Ki-moon highlighted the importance of the conference: "The Hyogo Framework for Action adopted a decade ago has saved thousands of people's lives. Now we must respond to the world's growing needs by empowering individuals, supporting communities and backing promises with resources. We must especially help the poorest and most vulnerable people. Disaster risk reduction is a frontline defence against the impact of climate change. It is a smart investment for business and a wise investment in saving lives. True resilience comes from strong bonds among countries and communities. That is why we are meeting here in Sendai."
Several UN-SPIDER experts as well as UNOOSA's director Simonetta Di Pippo are attending the conference to highlight the important role of Space-based technologies such as Earth observation or satellite-based navigation and positioning in the context of disaster risk reduction.
To this end, UN-SPIDER is co-organizing two working sessions and a public forum during the first days of WCDRR in Sendai:
Additionally to various formal and informal meetings with stakeholders, Ms Di Pippo will deliver statements in all of the sessions co-organized by UNOOSA/UN-SPIDER as well as in the side event organized by CANEUS "New global framework for sharing space technology & data standards for disaster management: UN-Global-Sat Initiative" taking place on Tuesday 17 March from 9:00 to 12:00.
During WCDRR, the Member State's delegations are expected to agree upon a new global framework for disaster risk reduction, which will replace the expiring Hyogo Framework for Action. The zero draft of this new framework, which was elaborated during several preparatory meetings in 2014 and 2015, is available here.