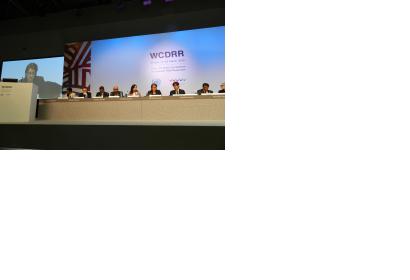 UNOOSA/UN-SPIDER successfully co-organized a working session on Earth observation and high technology to reduce disaster risks on Sunday, 15 March 2015. 200 participants attended the session. The working session was conducted during the Third UN World Conference on Disaster Risk Reduction (WCDRR) taking place from 14 to 18 March 2015 in Sendai, Japan.
The session aimed to discuss focused on the roles of Earth Observation, Geospatial Information, Information and Communication Technologies (ICT) and Robotics in disaster risk reduction, and their contribution to quantitatively monitoring the progress in the implementation of the post-2015 framework for disaster risk reduction.
The session was used to showcase how Space technologies have contributed to the implementation of the Hyogo Framework for Action and how they are actually used at local, national and regional levels, and provide knowledge and timely data and information. Renowned speakers and panellists indicated that Earth observation and space-based technologies combined with in-situ observation technologies and their analysis tools are playing a commendable role in contributing to the generation of relevant information to support decision-making regarding risk and vulnerability reduction and to address underlying factors of disaster risks.
A global partnership for Earth observation for disaster risk reduction
One of the key outcomes of the session was the formation of a global partnership comprised of UNOOSA and fifteen partners from the Space community, from the development community and from the disaster-risk reduction community.
The partnership aims to:
Facilitate the dialogue among stakeholders in EO, satellite-based technologies and the global community of DRR experts and policy makers regarding how to use such technologies in the context of disaster risk reduction;
Serve as a collective source and repository of information on efforts carried out worldwide by the EO and the satellite-based technology communities;
Generate policy-relevant advice to contribute to the integration of EO and satellite-based technologies into development process and public policies relevant to DRR;
Facilitate the use of EO and related technology to monitor progress in the implementation of the post-2015 framework for DRR;
Advocate the use of Earth observations and satellite-based technologies in global and regional events conducted by UNISDR and other relevant organisations.
Simonetta Di Pippo, Director of UNOOSA, in her statement noted the relevance of Earth observations and space-based technologies and announced the international partnership as a way to respond to the requirements of the global disaster risk reduction community which have been addressed in the post-2015 framework for disaster risk reduction.