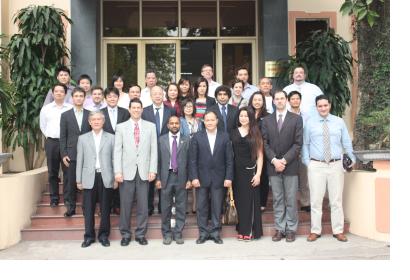 At the request of the Government of Vietnam, through the Disaster Management Centre of Ministry of Agriculture, UN-SPIDER carried out a Technical Advisory Mission to Vietnam from 25 to 29 March 2013. The mission served to evaluate the current and potential use of space-based information in all the aspects of disaster management in Vietnam and strengthen disaster risk management in the country by providing better access to space-based information for disaster risk reduction as well as response.
The mission team included 12 experts from organisations namely UN-SPIDER, CANEUS (Canada-Europe-Americas-Africa-Asia-Oceania) International, and Centre for Large Space Structures & Systems (Canada), CNES-CNRS-Université Paul Sabatier (France), South China Sea Institute of Oceanology, Chinese Academy of Sciences (China), GEREDIS (Spain), GREEN Mindanao (Philippines), Pacific Disaster Center (USA), ITC, University of Twente, Netherlands. Department of Earth Systems Analysis (Netherlands), Center for Interdisciplinary Geospatial Information Technologies- Delta State University (USA) and Beijing Normal University (China).
The expert team visited key stakeholders organisations involved in providing space-based and geospatial information for disaster management namely Department of Dike Management, Central Committee for Flood and Storm Control, National Institute of Agricultural Planning and Projection, Spatial Technology Institute (STI), National Remote Sensing Center (RSC), Hydro-Meteorological Forecasting Centre, UN Disaster Risk Management team, Department of Survey and Mapping and General Department of Land Administration.
A one-day workshop was conducted as a part of this mission, which was attended by about 60 officials from government departments, UN agencies and NGOs supporting disaster management.
The team also met with the UN Resident Coordinator to brief him about the mission objectives. The final debriefing was provided to the Vice Minister of Agriculture focusing on observations and recommendations related to capacity building, data availability, data/information sharing, policy and coordination with respect to disaster risk management and emergency response. The Vice Minister thanked the mission team for providing wider vision to the country for effective use of space technology for disaster management and promised to prepare master plan and initiate projects based on recommendations.
The Pacific Disaster Center also reported on the event on their website: http://www.pdc.org/PDCNewsWebArticles/2013/08_unspider_tam/