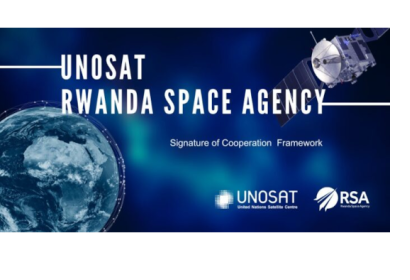 The United Nations Satellite Centre (UNOSAT) and the Rwanda Space Agency (RSA) finalised a framework cooperation agreement to leverage geo-information technologies for sustainable development. Under the agreement, UNOSAT and the RSA will join efforts in utilising satellite imagery and geospatial data for various purposes, amongst which disaster management, environmental monitoring, urban planning, and sustainable development initiatives.
Moreover, through this partnership, UNOSAT and the RSA will actively contribute to realising the SDGs, encompassing various areas such as poverty eradication, climate action, gender equality, and resilient infrastructure. Geo-information technologies, including satellite imagery, remote sensing, and geographic information systems will enable more accurate and comprehensive monitoring, assessment, and reporting of progress towards these goals.
This collaboration will not only enhance the capacity of both organisations but also foster knowledge exchange and technical expertise in the field of geospatial analysis. By combining their strengths and resources, they aim to facilitate evidence-based decision-making processes, enhance data-driven policies, and support effective implementation strategies to achieve sustainable development objectives.
Main image © UNOSAT