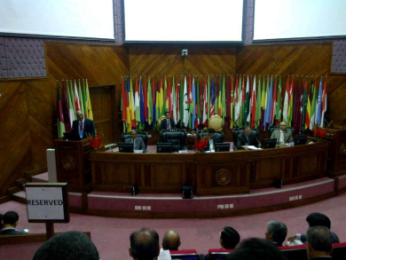 The United Nations Office for Outer Space Affairs (UNOOSA) and the Pakistan Space and Upper Atmosphere Research Commission (SUPARCO) jointly organized the United Nations/Pakistan International Workshop on Integrated Use of Space Technologies for Food and Water Security. The Workshop took place from 11 to 16 March 2013 in Islamabad, Pakistan.
The Workshop participants discussed how space tools could contribute to sustainable economic and social development programmes supporting food security and water management, primarily in developing countries, with the following objectives:
to enhance capabilities of countries in the use of space-related technologies, applications, services and information for identifying and managing water resources, and addressing food security concerns;
to examine low-cost space-related technologies and information resources available for addressing water- and food security needs in developing countries;
to strengthen international and regional cooperation in this area;
to increase awareness among decision-makers and research and academic community of space technology applications for addressing water- and food-related issues, primarily in developing countries; and
to promote educational and public awareness initiatives in the area of water- and food security, as well as to contribute to capacity building process in this area.
The programme of the Conference included four technical sessions and two special sessions - "Mountains Under Review - Experience Exchange on Remote Sensing-based Monitoring of Natural Resources in Mountain Regions" (organized in cooperation with UNEP) and "SERVIR-Himalaya - Enhancing Use of Earth Observation and Geospatial Technologies in the HKH Region" (organized in cooperation with ICIMOD) by PSIPW. Overall, 39 oral presentations were delivered at the technical and special sessions, and 27 papers were submitted for a poster session.
The event was inaugurated by the Mr Ahmed Bilal, Chairman of SUPARCO, H.E. Mohammad Moazzam Ali Khan Jatoi, Minister of State for National Food Security and Research of Pakistan, and Mr. Arshad H. Siraj, Executive Director of ISNET, the Islamic Network on Space Sciences and Technology.
In his opening remarks, Arshad H. Siraj emphasized the fact that this was the first event to be jointly organized by the United Nations and ISNET
The programme of the event is available online.