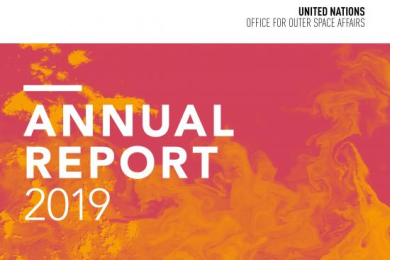 The United Nations Office for Outer Space Affairs (UNOOSA) has released its 2019 Annual Report. The 2019 report focuses on building resilience and highlights many projects and initiatives that UNOOSA engaged in during the past year to advance international cooperation in outer space. Space applications provide images and information that help monitor and mitigate climate change, reduce disaster risk, accelerate recovery when disasters occur, and promote resilience and sustainable development in a range of areas, from water management to telemedicine and precision agriculture.
As one of the highlights, UNOOSA launched the Space Law for New Space Actors project, which offers United Nations Member States tailored capacity-building to help them draft national space legislation and policies in line with international space law, promoting the long-term sustainability of outer space activities. The aim of the project is to support new and emerging spacefaring nations in conducting space activities in a responsible and sustainable manner, and to increase adherence to the existing normative framework governing outer space activities.
UNOOSA actively promotes the use of space technologies for achieving the United Nations Sustainable Development Goals. In this context, UNOOSA and the Space Generation Advisory Council (SGAC) launched the Space4Youth competition, which supports the United Nations Youth Strategy, specifically its number one priority: "Engagement, participation and advocacy to amplify youth voices for the promotion of a peaceful, just and sustainable world". Over 135 young people from 40 countries took part in the competition and the winning proposals were presented at a side event on Space4Youth during the main session of COPUOS in June 2019.
As part of its efforts towards sustainable development, UNOOSA signed an agreement with ESA to work together on producing a Space Solutions Compendium (SSC), aimed at leveraging expert knowledge and networks to identify relevant space applications and providing best practices on how developing countries can incorporate space solutions in their strategies.
To further increase the international dialogue about space activities and their implications for sustainable development, particularly around the four pillars of space economy, space diplomacy, space society, and space accessibility, UNOOSA hosted the first edition of the World Space Forum (WSF). The event, which attracted over 300 participants from 66 countries, led to numerous recommendations on topical areas, such as mitigating space debris, improving space traffic management, and ensuring the long-term sustainability of outer space activities.
Through the UN-SPIDER programme, UNOOSA supports the implementation of the Sendai Framework for Disaster Risk Reduction. UN-SPIDER supports developing countries in finding, accessing and using space-based information in activities conducted in all phases of disaster management – from preparedness to response and recovery. In 2019, UN-SPIDER conducted one technical advisory mission (Myanmar) and six institutional strengthening missions (Lao People's Democratic Republic, Peru, Ecuador, Cameroon, Mongolia, and Ethiopia). The programme also provided technical advisory support through the generation of tailor-made space-based information to countries that have experienced floods (Cameroon), droughts (Namibia), volcanic activity (Guatemala and Indonesia) and landslides (Cameroon, Colombia, and Guatemala). The outreach activities conducted by UN-SPIDER included eight workshops, conferences, training courses, and side events organized in China, Germany, India, the Republic of Korea, and Switzerland. The programme also supported emergency responses in several countries and promoted the Universal Access Initiative of the "International Charter Space and Major Disasters". For more detailed information about the activities conducted by UN-SPIDER, read the UN-SPIDER 2019 Annual Report.