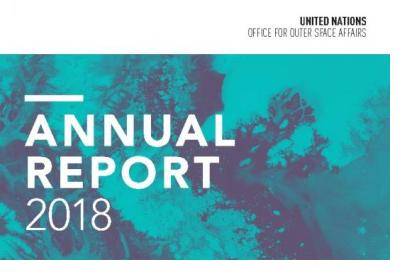 In its recently released 2018 Annual Report, the United Nations Office for Outer Space Affairs (UNOOSA) provides an overview of the many projects and initiatives it engaged in during the past year to advance international cooperation in outer space.
As one of the highlights, UNOOSA organized and hosted the UNISPACE+50 symposium in Vienna in June 2018 to celebrate the fiftieth anniversary of the first United Nations Conference on the Exploration and Peaceful Uses of Outer Space (UNISPACE I). Over 400 representatives from across the space sector, including from governments, the private sector, civil society, academia and space agencies participated in the UNISPACE+50 event, with presentations addressing space science and technology's contribution to global development and cooperation in various ways.
The report also showcases UNOOSA's Access to Space for All initiative. Through the undertaking, UNOOSA works to ensure access to space for all nations, particularly those without space agencies or those just beginning space engagements, by offering them opportunities to use and benefit from space applications.
A critical area in which space technologies and applications offer assistance is disaster risk reduction and management. As a programme of UNOOSA, UN-SPIDER is tasked with helping countries to access and use all types of space-based information for the full disaster management cycle - from disaster risk reduction to emergency response. The report features an overview of UN-SPIDER's technical advisory support activities in 2018 to support United Nations Member States by helping them leverage space technologies for disaster risk reduction and management.
UNOOSA actively promotes the use of space technologies for achieving the United Nations Sustainable Development Goals. As an example highlighted in the 2018 Annual Report, UNOOSA launched the Space4Water Portal, a multi-stakeholder platform for interdisciplinary knowledge exchange on space technologies and water-related topics, to specifically address Goals 6 and 17. And in February 2018, along with the Prince Sultan Bin Abdulaziz International Prize for Water (PSIPW), UNOOSA organized the United Nations/Pakistan/PSIPW fourth International Conference on the Use of Space Technology for Water Management in Islamabad.
The report also highlights the UN-SPIDER Knowledge Portal as an important access point for resources related to the use of space technology for disaster management. In 2018, the Knowledge Portal was visited by half a million users, an increase of over 40 per cent from 2017.
A full copy of the report can be accessed here.