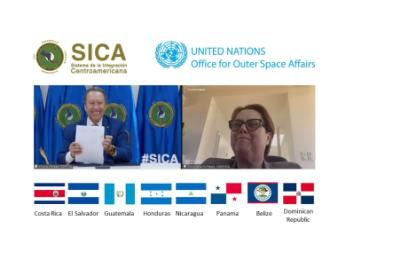 On 11 May 2021, Ms. Simonetta Di Pippo, Director of UNOOSA, and Mr. Vinicio Cerezo, Secretary General of the Central American Integration System (SICA), signed a Memorandum of Understanding for both institutions to work together to further their shared goals and objectives regarding the use of space science and technology for sustainable socio-economic and environmental development. The MoU will enhance the collaboration between SICA and the UN-SPIDER programme that is managed by UNOOSA, it will enable UNOOSA to explore ways to implement the Space Law for New Space Actors project in Central America, and it will facilitate the organization of capacity-building activities at the regional level to enhance the use of space science and technology for sustainable socio-economic and environmental development. All these efforts will contribute to the implementation of the Sustainable Development Goals.
In her remarks, Ms. Di Pippo noted that UNOOSA has a long history of activities and close relations with Central American countries, citing that thanks to the joint efforts with the Japan Aerospace Exploration Agency, Guatemala became the 2nd country under the KiboCUBE programme to launch a satellite; and more recently, the SICA proposal regarding the Morazan satellite was selected to continue supporting Central American efforts to make use of space technologies to address the challenges of climate change. Ms. Di Pippo reiterated that in cooperation with SICA, UNOOSA will be even better equipped to not only understand the needs of authorities in the region but also to develop tailored and targeted solutions to address such needs.
In his remarks, Mr. Cerezo commented that through this MoU, UNOOSA becomes a fundamental partner for the region, noting that the agreement will pave the way for Central American countries to benefit from the use of space technologies pave the way for sustainable development. He reiterated that the MoU would lead to new areas of cooperation with UN-SPIDER and to implement capacity building activities in technological areas, as well as in space law and space diplomacy.
The signing ceremony included a statement by the Vice Chancellor of Foreign Affairs of Costa Rica, Mr. Christian Guillermet, in his role as representative of the Pro Tempore Presidency of SICA; and presentations by SICA and UNOOSA.