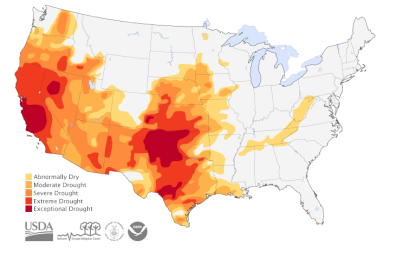 In early May 2014, the United States National Drought Center, in cooperation with the United States Department of Agriculture, the National Oceanic and Atmospheric Administration (NOAA), and the University of Nebraska-Lincoln developed a map, which shows the extended area affected by high temperatures and subsequent droughts in the United States.
The map is based on satellite and on the ground information regarding climate, sea and water conditions all around the country. The results are based on NASA measurements and models of drought monitoring and show that nearly 15 per cent of the country was suffering of extreme to exceptional drought in the beginning of May.
This is not news for the Plains and Southwest regions, where scientists see a pattern developing. The drought has the highest impact in California, especially on fruit and vegetable agriculture. More than half of the country's wheat crops are also affected by some level of drought.