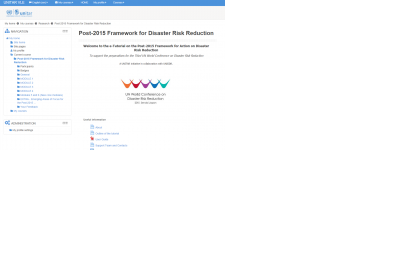 The United Nations Institute for Training and Research (UNITAR) has developed a free e-tutorial on the Post-2015 Framework for Disaster Risk Reduction (DRR).
This initiative has the goal of creating a level playing field for all actors involved, ensuring a minimum standard of understanding of the main issues by all concerned and a common starting point for the negotiation of the outcome document to be adopted in Sendai. This is done with the intention of supporting the process leading to the World Conference in Sendai and facilitating the adoption of the new DRR framework for action.
The e-tutorial is free of charge. It is designed for delegates and experts participating in the preparatory process of the Third UN World Conference on Disaster Risk Reduction (WCDRR, Japan, March 2015) and in the Conference itself. The tutorial is also open to government officers in ministries involved in the process towards the World Conference.
Structure of the tutorial
The tutorial is structured in 6 modules that require a total learning time of 3 hours in one or various sessions:
Disaster Risk Reduction and its essential components.
Evolution of the DRR agenda and the Hyogo Framework for Action.
Coherence between DRR, development and climate change.
A delegates' guide to the Third UN World Conference on Disaster Risk Reduction.
Organisation of the Third UN World Conference on Disaster Risk Reduction
Measuring Progress against the new Framework
The tutorial will be updated with special modules on emerging areas of interest for the new framework, such as: Science and climate prediction for reducing risks; DRR and agriculture; DRR and health; Women's leadership in DRR; Private sector involvement and business; Responsibility and accountability in the new framework.
Special module on Earth Observation
An additional 20-minute video module "Technologies for DRR: The Case of Earth Observation" provides an overview on how technologies can support DRR, with a special focus on Earth Observation technologies. It is composed of four short videos by OOSA, GEOS, UNOSAT and CEOS, and will provide an overview of the global space policy frameworks delivered by UNOOSA's director Simonetta Di Pippo. The module will then touch on the benefits of complementing space-based applications with in-situ observation; a third part will introduce some examples of using these applications for preparedness and risk reduction. Finally, the fourth part will focus on the role of space agencies in developing DRR technologies, and will provide examples of successful collaborations.