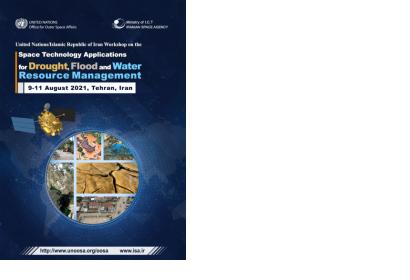 Space-based applications related to Earth Observation and geospatial data play an important role in supporting disaster risk reduction, response and recovery efforts through providing accurate and timely information for decision-makers. Monitoring floods, drought conditions and water resource environments using satellite remote sensing (RS) technologies have become more essential recently, in particular for developing countries.
The workshop will be held in Tehran, Iran, from 9 to 11 August 2021, in a virtual format, and will be hosted by the Iranian Space Agency (ISA). The workshop will explore how current space technologies help identify and monitor the effects of a changing climate – including the onset of drought, flash floods, and general water resources conditions as a result of global climate change, in particular on an international and regional scale. The discussions at the workshop will also be linked to the 2030 Agenda for Sustainable Development and its targets set out for Sustainable Development Goals (SDGs). The main objectives of the workshop are, therefore, to promote collaborative research, identification of challenges, and provide recommendations to enhance regional efforts towards disaster management and emergency response.
The specific objectives of the workshop will be:
To introduce the latest applications of space-based technologies for the management of natural resources, environment, as well as disaster management, in particular for drought, flood and water resources;
To promote the greater exchange of experiences on space-based applications projects related to water resources at national and/or regional scales;
To encourage greater cooperation among stakeholders of disaster management and to promote partnerships within the region;
To define recommendations and findings to be forwarded as a contribution to the Office for Outer Space Affairs, in forging partnerships to strengthen and deliver capacity-building on satellite remote sensing and other technologies for disaster risk reduction and management.
If you would like to make a presentation, please submit the completed application form together with a presentation abstract online by Wednesday, 14 July 2021 at the latest.
To register, use this link. The registration deadline for other participants is Sunday, 1 August 2021.
More information on the workshop can be found in this link.