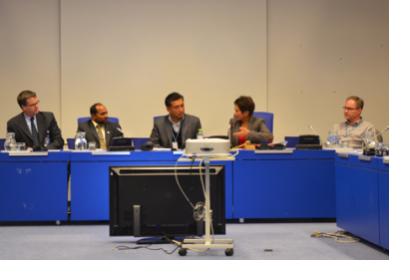 On the sidelines of the fiftieth session of the Scientific and Technical Subcommittee of the Committee of the Peaceful Uses of Outer Space, which took place in Vienna, Austria from 11 - 22 February 2013, UN-SPIDER signed agreements with two new partners to establish Regional Support Offices (RSO).
On 12 February 2013, during the 4th annual UN-SPIDER Regional Support Offices meeting, the official signing ceremony for the International Centre for Integrated Mountain Development (ICIMOD) was held making ICIMOD the fourteenth RSO. ICIMOD is a regional intergovernmental learning and knowledge sharing centre serving the eight regional member countries of the Hindu Kush Himalayas – Afghanistan, Bangladesh, Bhutan, China, India, Myanmar, Nepal, and Pakistan – and based in Kathmandu, Nepal. The arrangement was formalized through a memorandum of understanding signed between ICIMOD and the UN Office for Outer Space Affairs (UNOOSA). Joining the network of RSOs, ICIMOD will work closely with UN-SPIDER to use space-based information and services for disaster management and emergency response in the Hindu Kush Himalayan region.
On 19 February, 2013, LAPAN, the Indonesian National Institute of Aeronautics and Space became UN-SPIDER's fifteenth Regional Support Office by signing a memorandum of understanding with UNOOSA. LAPAN is the Indonesian government space agency responsible for long-term civilian and military aerospace research. In September 2013, UNOOSA and LAPAN will jointly organize a Conference on Integrated Space Technology Applications to Climate Change, taking place in Jakarta, Indonesia.