The Sendai Framework for Disaster Risk Reduction recognises the importance of ecosystem-based disaster risk reduction (Eco-DRR). In the last two decades, Asia has experienced numerous disasters caused by geologic and hydro-meteorological hazards impacting human settlements, both rural and urban. Gradual recognition of Eco-DRR as an efficient risk reduction tool is bringing the development focus on blue-green infrastructure (BGI) for settlements.

In this context, UN-SPIDER and the Indian Institute of Technology at Roorkee organized the India International Training Course on Space-based Information for Ecosystem-based Disaster Risk Reduction. The course took place from 25 to 29 November at the Centre of Excellence in Disaster Mitigation and Management (CoEDMM), Indian Institute of Technology Roorkee, India, which focusses on the use of satellite remote sensing techniques in Eco-DRR. Thirty-six young research scholars, scientists and professionals engaged in developing solutions for disaster management attended the training. The participants came from six countries in Asia and Africa.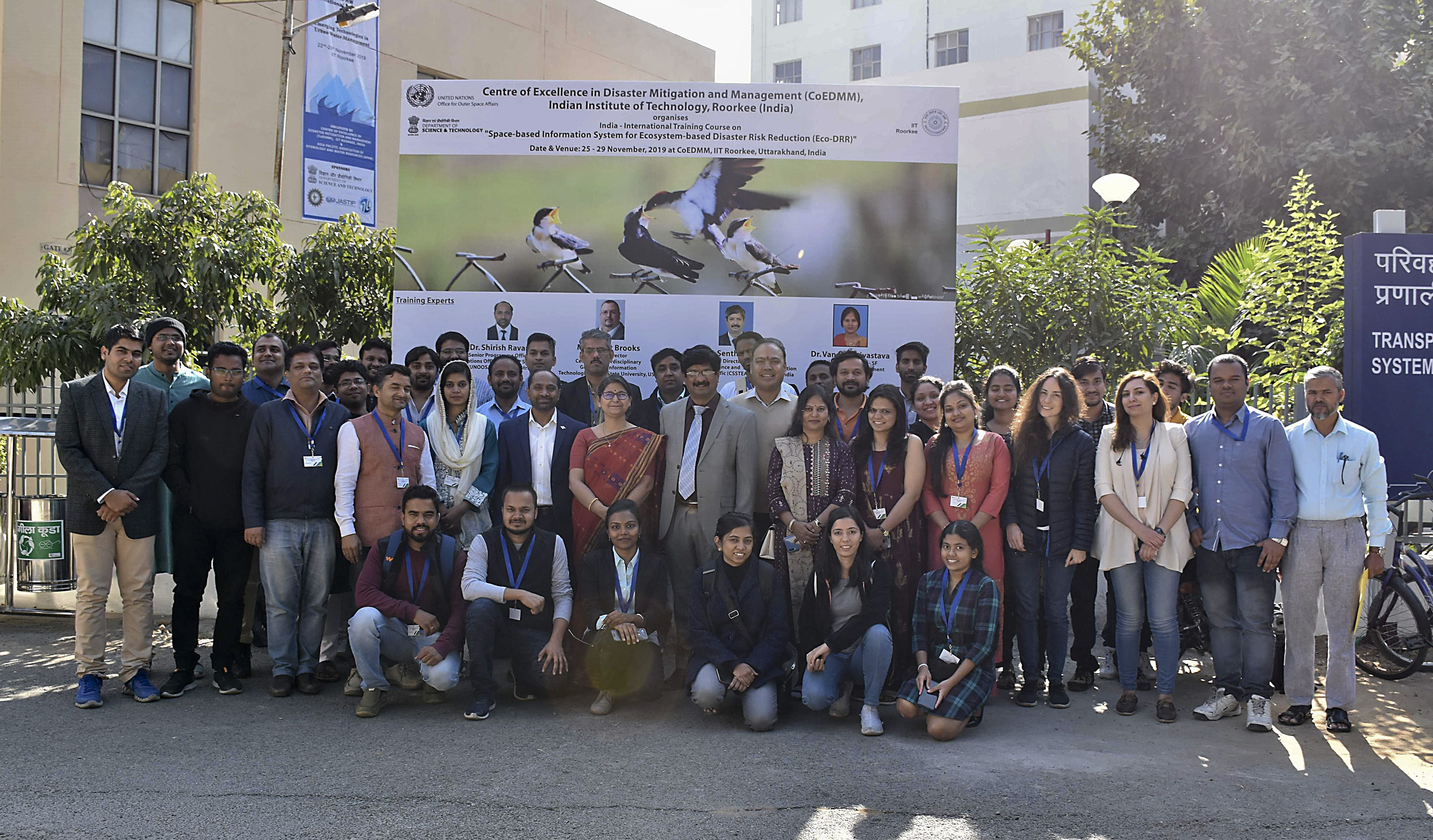 The training discussed the basics of disaster risk reduction and Earth observation techniques, geo-intelligence and crisis managements, urban flood modelling, emergency management, urban hazard assessments including urban heat islands, heat waves, heat stress, surface and canopy layer atmospheric change, and identifying potential areas of intervention through data integration. The training also included a visit to a nearby city for creating a scenario through the strategic selection of feasible BGI and simulation of the scenario to show the effectiveness of BGI as an instrument for disaster risk reduction.

The training provided insight on about role of ecosystem in urban planning and developing resilient communities.
Experts from UN-SPIDER, Delta State University (USA), the Indian Institute of Technology (Roorkee, India) and the Centre for Space Science and Technology Education for Asia and the Pacific (CSSTEAP) based at the Indian Institute of Remote Sensing contributed to the training programme.