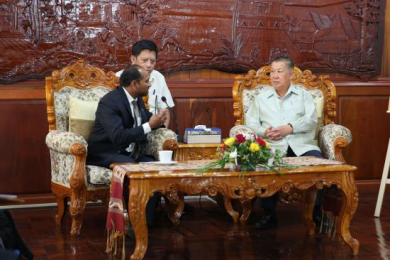 UN-SPIDER carried out a Technical Advisory Mission to Lao PDR from 6-10 July 2015. The mission was conducted upon invitation from the Ministry of Science and Technology. The mission staff also worked closely with the Ministry of Natural Resources and Environment (MONRE), in particularly with the Department of Disaster Management and Climate Change (DDMCC), which is a secretariat of the National Disaster Prevention and Control Committee (NDPCC). The mission team was comprised of 9 experts from UN-SPIDER and other organisations, namely the Pacific Disaster Center (PDC), University of Georgia, Delta State University, UN Office for Coordination of Humanitarian Affairs (OCHA), Asian Disaster Preparedness Centre, National Disaster Reduction Centre of China and International Water Management Institute.
The mission team conducted in-depth discussions with 4 Ministers and 3 Vice Ministers (Science and Technology, Natural Resources and Environment, Agriculture and Forestry, Public Work and Transports, Health, Public Security, Education and Sports) and several other organisations (National Disaster Prevention and Control Committee, Natural Resources and Environment Institute, Natural Resources and Environment Data Center, Agriculture Statistics Center, Department of Meteorology and Hydrology, Forest Resources Information Centre, Ministry of Labor and Social Welfare, National Geographic Department and Lao Decide Info. The mission team also visited the UN Resident Coordinators and officials of UN agencies involved in disaster risk reduction.
On the fourth day of the mission, the national workshop on "Improving Disaster Management and Emergency Response using Space based Information" was organised which was inaugurated by the Vice Minister of Science and Technology and attended by about 60 participants.
The mission team provided briefing to the high level officials of the MOST and the MONRE on the fifth day of the mission. The participants have done in-depth observations of the current state of use of earth observation and geospatial information in Lao PDR by all stakeholders of disaster management, and understood the challenges and constraints the country is facing to make effective use of these technologies in disaster management. The report of the TAM, containing the assessment, recommendations and actions will be submitted to the Government within two months and UN-SPIDER, along with its partners, will engage with the Government of Lao PDR to facilitate implementation of these recommendations.
See the Pacific DisasterCenter's article on the mission by clicking here.