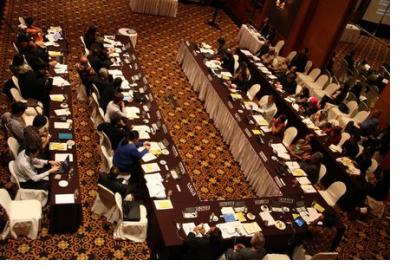 UN-SPIDER is organizing a side event at the 5th Asian Ministerial Conference on Disaster Risk Reduction (AMCDRR) scheduled to take place in Yogyakarta, Indonesia from 22 to 26 of October 2012. The side event "Improve DRR Practices based on the Lessons Learned from Major Disasters in Asia - A Space Technology Intervention" will mainly look at three recent disasters in Asia: Japan Tsunami in 2011, Pakistan Floods and China Yusu Earthquake 2010. During these disaster events the importance of space-based information for managing the situation became apparent. The session will bring out lessons learned and provide inputs to prepare for such disasters. Thus, the session will focus on gaps in preparedness, early warning and emergency response and how these gaps can be filled with the help of space technology. The session will provide experience-based guidance to the disaster managers to improve DRR practices by incorporating space technologies.
The session objectives are to learn about how to be prepared for the effective use of space-based information, contributing to preparedness and early warning, which will also result in an effective response; to share recent experiences of the countries related to the critical factors that need to be taken into account for effective space technology interventions for disaster management and to define priority actions at policy level that countries should take to enhance DRR using space technologies. Speakers will include Shirish Ravan, Head of UN-SPIDER Beijing Office, UNOOSA; Yang Siquan, Director of Remote Sensing Department of NDRCC, China; Masami SUGIURA, Senior Researcher of ADRC, Japan and Imran Iqbal, UN-SPIDER RSO coordinator, SUPARCO, Pakistan. Expected participants are Disaster Management Officials and technical staff.
The side event is held in cooperation with the National Disaster Reduction Center of China (NDRCC), the Space and Upper Atmosphere Research Commission (SUPARCO) of Pakistan and the Asian Disaster Reduction Centre (ADRC). It will take place on 25th October 2012 from 8:00-9:30 a.m. in Room C6, Jogja Expo Center (JEC).