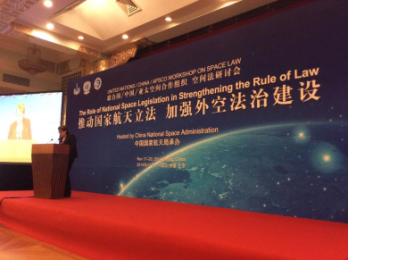 From 17 to 21 November 2014, the United Nations Office for Outer Space Affairs (UNOOSA) jointly with the China National Space Administration (CNSA) and the Asia-Pacific Space Cooperation Organization (APSCO) organised a workshop on space law in Beijing, China. More specifically, the workshop shed light on "the role of national space legislation in strengthening the rule of law".
UN-SPIDER participated in the workshop and Dr. Shirish Ravan of UN-SPIDER Beijing Office chaired the session on "Regulatory and Institutional Aspects on the Use of Space-Derived Data and Information". He gave a presentation on the topic "The use of space-based information for development and disaster management: Policies and practices". The presentation was made jointly with Dr. Rokhis Khomarudin of LAPAN (UN-SPIDER Regional Support Office in Indonesia), who specifically highlighted Indonesia's One Map Policy and related acts.
Some of the presentations held during the workshop are available for download on UNOOSA's website.