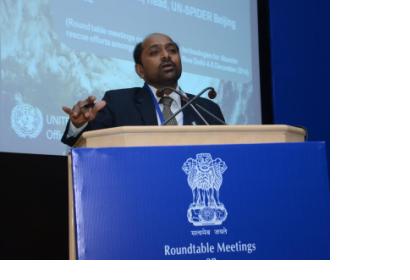 The "Roundtable Meetings on Innovations in Technologies for Disaster Rescue Efforts amongst ASEM countries" took place on 4 and 5 December 2014 in New Delhi, India. ASEM is the Asia-Europe Meeting. Shirish Ravan of UN-SPIDER co-chaired a session on Technology Transfer: Joint ventures among ASEM Countries and presented the topic "Consideration for Effective Use of Space-based Information for Emergency Response".
The main objective of the meetings was to focus the attention of ASEM member countries on how technology innovations can be utilized to save lives and reduce effective response time by Governments. Participants also addressed how ASEM countries can contribute to capacity building both in Asia and Europe through the sharing of best practices. Another goal of the meetings was to facilitate partnership building among interested ASEM countries and their industry. This effort aims to build disaster rescue and relief capacities, including through the development of joint ventures.
The meetings were also the occasion to introduce the Virtual Knowledge Portal (VKP) and to allow the 24x7 point of contacts (PoCs) of the East Asia Summit (EAS) member countries to deliberate and finalize their terms of reference.