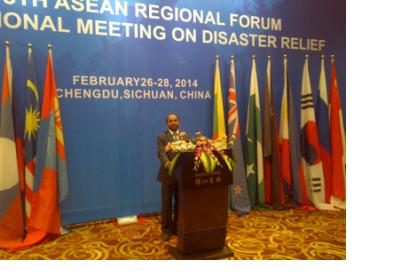 UN-SPIDER, represented through Mr. Shirish Ravan of the UN-SPIDER Beijing Office, participated in the 13th ASEAN Regional Forum Inter-Sessional Meeting on Disaster Relief and presented the topic "Role of space based information in Disaster Risk Reduction: UN-SPIDER Interventions". In his presentation, Mr Ravan underscored the importance of relaying early warning messages of impending disasters to residents.
The 13th ASEAN Regional Forum Inter-Sessional Meeting on Disaster Relief took place from 26 to 28 February 2014 in Chengdu, China. Participants discussed early warning and assessment of risks, military-civil coordination, humanitarian assistance stockpiles management, damage assessment, recovery and reconstruction, and the future direction of regional disaster relief cooperation including preparations for the ASEAN Regional Forum Disaster Relief Exercises in 2015.
Hosted by the Chinese Ministry of Foreign Affairs and the Ministry of Civil Affairs, the event brought together member states from ASEAN as well as from China, Japan, South Korea, the United States, Russia, Australia, New Zealand, Sri Lanka, India, Lao PDR, Cambodia, Indonesia, Brunei Darussalam, Myanmar, Philippines, UN and the European Union.
The ChinaDaily quoted Wei Shengyi, a programme officer with the Department of International Cooperation in the Ministry of Civil Affairs, who also highlighted the importance of early warning: "ASEAN member countries have yet to improve the early warning system, which has been proved in the case of Typhoon Haiyan in the Philippines. With a sound early warning system, for instance, one member state with the backing of satellite technology can tell another member state that a typhoon or tsunami is impending on its territory."