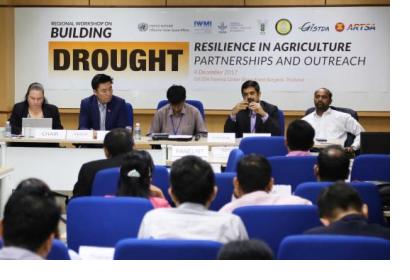 UN-SPIDER has jointly organized a regional workshop and training course on building drought resilience together with the Geo Informatics and Space Technology Development Agency (GISTDA), the ASEAN Research and Training Center for Space Technology and Applications (ARTSA), the International Water Management Institute (IWMI) and the CGIAR Research Program on Water, Land and Ecosystems (WLE). The events were held at the Research and Training Center for Space Technology and Applications of the Association of Southeast Asian Nations, in Sri Racha, Thailand from 4 to 8 December.
The activities were attended by participants from Bangladesh, India, Indonesia, the Lao People's Democratic Republic, Myanmar, Nepal, Sri Lanka, Thailand and Vietnam. The training course provided theory-based and interactive sessions focused on Earth-observation-based tools for drought monitoring. The topics and activities included demonstration and training in the use of various drought indices; comparison of drought indices, with in situ observation, including agrometeorological observation and crop yield information; procedural guidelines for the utilization of systems during emergency response; and accessing satellite data to monitor drought, flood and other disasters.
The idea for the regional workshop stems from the recognition that drought risk can be lowered by reducing or taking preventive measures at the local level. One of the objectives of the workshop on building drought resilience in agriculture was to emphasize the importance of shifting from drought immediate response to medium- and long-term preparedness in order to reduce the risk of drought. Overall, the workshop also focused on encouraging the showcase of best practices which offered the participants the opportunity to learn and make use of various drought initiatives that have the potential to be implemented in drought mitigation measures.
Read More: The Training Programme on PROGRAMME ON EARTH OBSERVATION BASED TOOLS FOR DROUGHT MONITORING