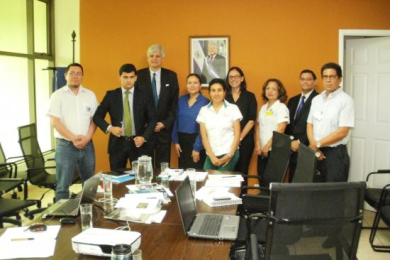 On 9 and 10 July 2015, UN-SPIDER conducted an Expert Mission to El Salvador under the coordination of the Ministry of Foreign Affairs of El Salvador as a follow-up to the Technical Advisory Mission (TAM) which was conducted in April 2014. The Expert Mission included several meetings with representatives of the Ministries of Foreign Affairs, Environment and Natural Resources, Public Works, Public Health, and Interior. The mission was used to discuss the recommendations proposed by UN-SPIDER during its TAM in 2014; including the establishment of a national geospatial information system and an inter-institutional team of professionals which would focus its efforts in the generation of space-based information in disaster risk reduction and emergency response.
During the mission UN-SPIDER also presented the Recommended Practice on droughts recently developed by the Iranian Space Agency in its role as a Regional Support Office, and a series of maps elaborated by the UN-SPIDER Bonn Office regarding the Vegetation Condition Index as a way to contribute to drought early warning and drought management efforts in this country. Specific meetings were conducted as part of this mission with the Directorate of Civil Protection, with the Environmental Observatory of the Ministry of Environment and Natural Resources, and with UNDP and other UN agencies in El Salvador which are conducting efforts to support the government to cope with the recent droughts that are affecting this country.
The opportunity was used to discuss ongoing efforts conducted by the Ministry of Foreign Affairs of El Salvador related to the incorporation of El Salvador as a member of the Committee on Peaceful Uses of Outer Space (COPUOS) and to provide information on the activities conducted by the United Nations Office for Outer Space Affairs and its Space Applications Programme.