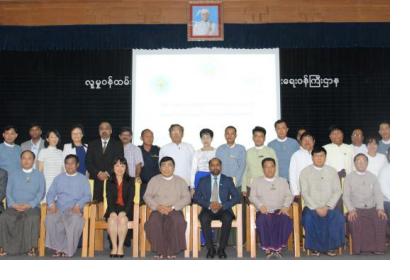 The UN-SPIDER team conducted an Institutional Strengthening Mission (ISM) to Myanmar from 27 June to 1 July 2016. The aim of the mission has been to identify Myanmar's needs in disaster and risk management and is a follow-up to two missions conducted previously in March and November 2012.
Since 2012 great efforts were taken by Myanmar authorities to improve their use of space-based information in risk and disaster management: an Emergency Operation Center has been established with well-trained experts working in specific units such as the "Remote Sensing Unit" and the "Risk Assessment and Emergency Response Unit". These units include specialized tasks on Remote Sensing (RS) and Geographic Information System (GIS). In addition, RS and GIS courses are now offered at the recently created Disaster Management training Center in Hinthada, Myanmar.
The UN-SPIDER program will continue to work closely with the Ministry for Social Welfare, Relief and Resettlement to increase it capacity, encouraging it to become the Authorized User of the International Charter for Space and Major Disaster. The expert team will also assist in the update of the Myanmar Action Plan for Disaster Risk Reduction (MAPDRR) with a focus on Earth Observation (EO) and support the Disaster Management Training Center (DMTC) in offering courses on RS/GIS in cooperation with UN-HABITAT and UNDP offices in Myanmar.
The mission included several visits to the stakeholders who deal with the different phases of the disaster management cycle.