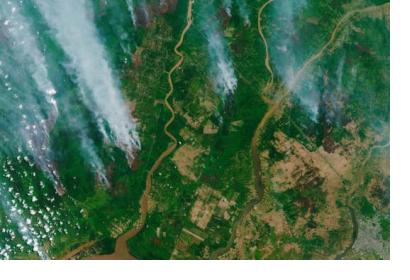 The head of the UN-SPIDER Bonn office and a visiting scientist from the Universidad Católica de Manizales conducted a webinar entitled "Introduction to Satellite Products and Services for the Management of Forest Fires" on 10 June. The aim of this webinar was to facilitate the use of space-based information for disaster management and emergency response, in particular to monitor and forecast forest fires.
The event took place on Wednesday, 10 June, at 5pm CEST (time for other time zones indicated in the image below) and was conducted in Spanish.
The recording of the webinar is available online.
The webinar discussed the following topics:
Introduction to UN-SPIDER and UNOOSA

Introduction to satellite atmospheric observations of fire emissions

State-of-the-art Copernicus operational data sets for monitoring smoke and fire emissions to the atmosphere

UN-SPIDER Recommended Practice for burn severity mapping

Case studies

Maya Reserve of Pete (Guatemala)

Chernobyl (Ukraine)
The webinar was organized with the support of the Fundación Amigos de la Naturaleza (FAN) and the Red Latinoamericana de Teledetección e Incendios Forestales (Redlatif). FAN is a Bolivian organization committed to the conservation, preservation and maintenance of the Earth, in particular the Amazon rainforest. RedLaTIF is a Latin-American network established in 2002 under the Global Observations of Forest and Land Dynamics (GOFC/GOLD)-Fire Mapping and Monitoring Theme. Its primary goals are to assess and validate global satellite fire products, promote use of remote sensing data, and bridge the gap between end users and space agencies.