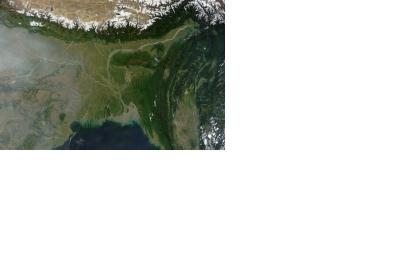 UN-SPIDER is planning to conduct two training programmes in April.
From 5 to 9 April 2015, the programme is jointly organizing the five-day course "Earth observation technologies for disaster damage and loss assessment" in Dhaka, Bangladesh with the Department of Disaster Management (DDM) in Bangladesh.
It aims to strengthen damage and loss assessment by teaching the use of satellites images to contribute to damage and loss assessment. It will allow DDM and important stakeholder departments with easy, rapid and accurate ways of assessing damage and loss during disasters using satellite remote sensing. It more specifically aims to impart skills on using satellite remote sensing for multi-hazard risk assessment, damage assessment of important sectors like agriculture, housing, road infrastructure and demography. Experts from the following organisations are contributing to the training by conducting lectures and hands-on sessions: National Disaster Reduction Center of China, International Water Management Institute (IWMI), International Centre for Integrated Mountain Development (ICIMOD), Nice Sophia Antipolis University – France, DigitalGlobe, Asia Disaster Preparedness Centre (ADPC) and Swiss Re. DigitalGlobe offered pre- and post-disaster high resolution images to develop proof of concept and hands on sessions.
From 13 to 17 April 2015, UN-SPIDER and UNDP Bhutan are offering a training for Bhutanese officials on "Response and recovery preparedness". The course will be held at the Centre for Space Science Technology Education in Asia and the Pacific (CSSTEAP) in Dehradun, India.
The course is following up on a recommendation of the UN-SPIDER Technical Advisory Mission to Bhutan in November 2014, to strengthen Bhutan's capapcities to use satellite imagery for disaster management. It aims to enhance the capacity of Bhutanese officials on disaster preparedness, response and recovery at national and local levels and mitigating the impacts on people's life and livelihoods when they are hit by disasters, thereby contributing to long-term disaster risk reduction in the country. The topics of the training programme will include the following:
Setting up National Spatial Data Infrastructure,
Assessment of forest fire and its impacts on natural resources, Landslide hazard assessment using geospatial information,
Use of space based information during emergencies; Use of space based technology for post disaster impact assessment etc.
AirBus offered pre- and post-disaster high resolution images to develop proof of concept and hands on sessions.