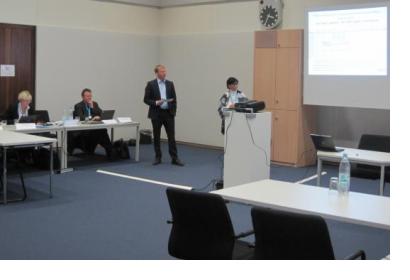 On 1st and 2nd December 2016 the UN-SPIDER programme carried out the International Expert Meeting on the Global Partnership on Space Technology Applications for Disaster Risk Reduction (GP-STAR) in Bonn, Germany. The goal was to facilitate synergies among experts involved in the GP-STAR and other professionals interested in promoting the use of space technology applications in disaster risk reduction. The meeting brought together approximatley 30 experts from national, regional and international organizations and institutions. Keynote presentations from experts offered a platform for discussion sessions.
The International Expert Meeting was used to outline the aims of the partnership as a way to contribute to the implementation of the Sendai framework especially considering activities related to Earth observation, geospatial information, space technology applications, and international networks such as the International Network on Multi-Hazard Early Warning Systems (IN-MHEWS).
The main results of the Meeting, to be published as a technical report, included the agreement on the Terms of Reference and plan of work for the GP-STAR in the coming years; and a specific action plan to ensure an active and visible participation of the GP-STAR at the next Global Platform conference to be held in Cancun, Mexico, in May 2017.
The outcomes will be brought to the attention of UNOOSA and the Committee on the Peaceful Uses of Outer Space in charge of the UNISPACE+50 process.