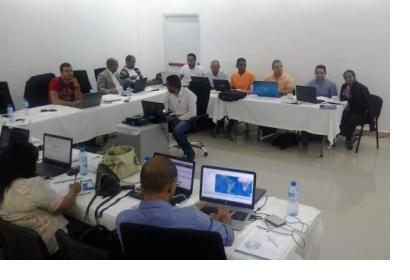 The UN-SPIDER programme of the United Nations Office for Outer Space Affairs and the National Emergency Commission of the Dominican Republic (NEC) joined forces to conduct a training course in the premises of the NEC from 20 to 22 July 2016 in Santo Domingo, Dominican Republic.  The training course focused on the generation of maps depicting the Vegetation Condition Index (VCI) and the Standard Vegetation Index (SVI) using the Recommended Practices that have been developed by experts for UN-SPIDER.
The training course targeted 20 members of the government agencies and NGOs that integrate the Geospatial Information Management Team (EIGEO) that was established by the NEC and other government ministries and agencies in March 2013 as a way to support disaster risk reduction and emergency response efforts in the Dominican Republic.
Mrs. Silvia Pardi Lacruz from the Federal University of Santa Maria in Brazil and Mr. Osman Roa Melgarejo of the Agustin Codazzi Geographic Institute of Colombia were the trainers that managed the different topics of this course.  The course is geared to support drought early warning efforts in the Dominican Republic, which was severely affected by droughts in 2015 and 2016 as a result of the recent El Niño event.  
With these skills, the members of the EIGEO team will be able to generate maps on a monthly basis depicting the VCI and the SVI, which will be combined with other relevant information regarding the weather, social and economic data as a way to facilitate the visualization of droughts and their effects in communities exposed to such droughts.
The training course is part of the activities related to the project entitled "Strengthening Early Warning Systems for Drought" (SEWS-D) that UN-SPIDER and other international, regional and national organizations are conducting in the Dominican Republic, El Salvador, Guatemala and Honduras.  For more information on this project click here.