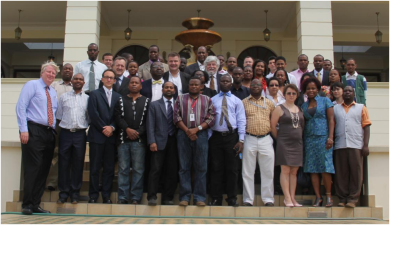 At the request of the Government of Mozambique, through the National Institute of Disaster Management (INGC), UN-SPIDER carried out a Technical Advisory Mission (TAM) from 7 to 14 October 2012 to evaluate the current and potential use of space-based information in all the aspects of disaster management and strengthen disaster risk management in the country by providing better access to space-based information for disaster risk reduction as well as response.
The mission team was comprised of nine experts from UN-SPIDER, the University of Salzburg (Austria), the Cologne University of Applied Sciences (Germany), the Center for Interdisciplinary Geospatial Information Technologies (United States), the Southern African Development Community (South Africa), Umvoto Africa Ltd (South Africa) and the Southern Mapping Company (South Africa).
The Technical Advisory Mission began with pre-TAM discussions of the mission team with the Crisis Prevention, Response and Environment Unit of the United Nations Development Programme (UNDP) and INGC. The mission team visited various government agencies and ministries during the first three days of the mission such as the Ministry of Agriculture, the National Institute of Meteorology or the Ministry for Coordination of Environmental Affairs. These meetings provided insight of their role in disaster management with an emphasis on space-based and geospatial information.
A one day workshop was organized, which was attended by over 60 experts from the government departments, UN agencies, NGOs and private companies involved in using geospatial technologies for disaster management. The workshop included presentations from Mozambique Government departments and the Mission team experts. The second half of the workshop was dedicated to a brainstorm inviting the participants to contribute to improving the use of space technologies in disaster management. The workshop was effective in generating awareness and getting valuable inputs to strengthen space technology in disaster management. On the last day, the TAM team provided a briefing about the findings of the mission to the Director of INGC. This meeting was also attended by the Country Representative of UNDP and his team as well as INGC staff. The observations and recommendations will be compiled in the form of the report to be shared with the Government and UN organisations.