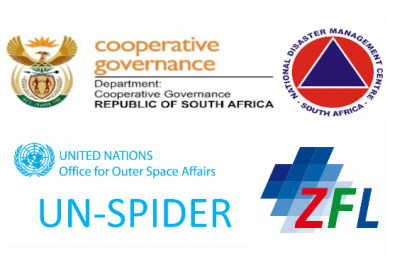 As part of its efforts to provide advisory support to national disaster management agencies and other stakeholders in Africa, UN-SPIDER is carrying out an Institutional Strengthening Mission to South Africa from 8 to 12 May 2023.
The mission, implemented in coordination with the National Disaster Management Centre of South Africa (NDMC), includes meetings with staff of the NDMC, the South African National Space Agency (SANSA), the South African Weather Service (SAWS), the Department of Agriculture, the Agricultural Research Council (ARC), the Council for Scientific and Industrial Research (CSIR) and other institutions, and a three-day workshop on the use of space technologies in early warning and disaster management efforts with a focus on floods and droughts.
The three-day workshop will include presentations on UN-SPIDER Recommended Practices for flood mapping and drought monitoring, the Global Flood Awareness System (GLOFAS), and the Global Drought Observatory (GDO) of the Copernicus programme, and on the activations of the International Charter Space and Major Disasters in case of large disasters in South Africa.
The mission is benefitting from the support provided by experts from the Centre for Remote Sensing of Land Surfaces of the University of Bonn (ZFL).
The aims of the mission are:
To establish stakeholder relations with key South African public sector and other disaster management entities responsible for the management of flood and drought hazards.
To facilitate the use of space-based information by the National Disaster Management Centre (NDMC) and other government agencies, in applications related to disaster preparedness and response.
To continue the implementation of the Flood GUIDE pilot project in South Africa.