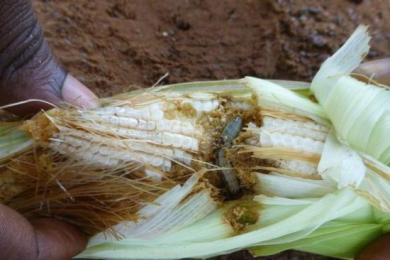 An armyworm pest has been afflicting southern and eastern Africa since the beginning of this year. It has been observed in South Africa, Zimbabwe, Malawi, Zambia, Namibia and Mozambique with Zimbabwe being the worst affected country so far. The moths of the armyworm are born survivors and they are able to migrate over huge distances. Experts predict that next affected countries will be Tanzania and Kenya.
In January 2017 the UK Space Agency awarded £6,38 million in funding over 5 years to the Pest Risk Information Service (PRISE) project in sub-Saharan Africa. The project is led by CABI (Centre for Agriculture and Biosciences International) and it aims to reduce crop losses caused by pests in 6 countries in the region. As a part of the project, a pest risk forecasting system based on Earth Observation and Plantwise data will be created, providing forecasts and early warnings for smallholder farmers and thus increasing their resilience to pests and improving their livelihoods.
As CABI's CEO Dr. Trevor Nicholls says, an estimated 40% of the world's crops are lost due to pests and he urges to take action. He is delighted that the use of Earth observational data can provide more timely management advice and therefore reduce the pest impacts.
To have an idea about the extent of the crop pests, according to FAO, in Zimbabwe the armyworm is present in 7 of the country's 8 provinces, causing an estimated 70% crop destruction in some areas. Pests in sub-Saharan Africa further aggravate the damages caused by severe droughts that some countries had faced or are currently facing.