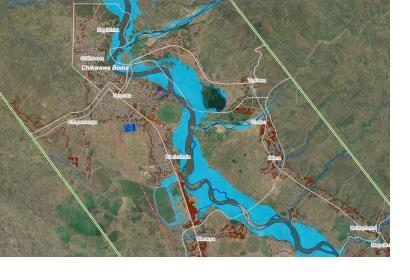 Heavy rainfalls connected to tropical storm Ana have triggered severe flooding events in eastern Africa, affecting Madagascar, Mozambique, and Malawi. Flooding began after heavy rain in Madagascar on 17 January and continued with tropical storm Ana passing over the countries from 22 January.
In an effort to support the national authorities and their disaster management agencies, several emergency mechanisms making use of space-based technologies have been activated. These mechanisms aim to provide a rapid assessment of the situation, giving information about the extent of the event, affected population, and a first damage assessment.
By utilizing and analyzing available optical and radar satellite imagery, this crucial data and information can be generated, put into maps, services, and reports, which are provided to and accessible by the authorities and other assisting organizations for more efficient disaster response.
Below, you find a selection of links and resources, connected to the event and the activations.
Links
General Information:
https://floodlist.com/africa/madagascar-mozambique-malawi-tropical-storm-ana-update-january-2022
Copernicus Activations:
Madagascar: https://emergency.copernicus.eu/mapping/list-of-components/EMSR559
Malawi: https://emergency.copernicus.eu/mapping/list-of-components/EMSR561
International Charter Space & Major Disasters:
Madagascar: https://disasterscharter.org/web/guest/activations/-/article/flood-large-in-madagascar-activation-747-
Mozambique and Malawi: https://disasterscharter.org/web/guest/activations/-/article/flood-large-in-mozambique-activation-748-
Additional products and services by UNITAR/UNOSAT:
Satellite detected water extent over Zambezia Province, Mozambique (28 Jan 2022): https://www.unitar.org/maps/map/3454
Satellite detected water extent over Zambezia and Sofala Province, Mozambique (02 Feb 2022): https://unitar.org/unosat/node/44/3458
Population potentially exposed to floods in Malawi: https://www.unitar.org/maps/map/3456
Satellite detected water extents in Malawi: https://unitar.org/maps/map/3457
Dashboard for Mozambique: https://unosat-rm.cern.ch/portal/apps/opsdashboard/index.html#/ded90c7186c24aa38b168274b2350675
Dashboard for Malawi: https://unosat-rm.cern.ch/portal/apps/opsdashboard/index.html#/6ca9a81b00dc4dd6bd137e707dab0b05
More information on the Copernicus Emergency Management Service: https://emergency.copernicus.eu/
More information on the International Charter Space & Major Disasters: https://disasterscharter.org

Image excerpt:
Copernicus Emergency Management Service (© 2022 European Union), [EMSR561] Chikwawa: Delineation Product, version 1, release 1, RTP Map #01
https://emergency.copernicus.eu/mapping/ems-product-component/EMSR561_AOI01_DEL_PRODUCT_r1_RTP01/1