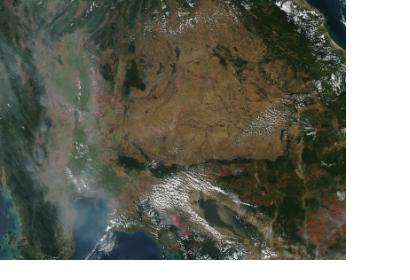 Thailand's Deputy Prime Minister Plodprasop Suraswadi has ordered northern provincial authorities to use satellite surveillance to monitor bushfires and cut down on haze pollution. He said satellite imagery was the most accurate tool to detect bushfire hotspots and should form an integral part of the government's campaign to reduce haze pollution in the North.
"Every province is required to survey fire hotspots on a daily basis, be it in forests, communities or agricultural areas," Mr Plodprasop said on 3 February 2013 during a visit to Lampang province.
In January 2013, the government launched a 100-day bushfire and haze surveillance campaign that will end on April 30. The campaign aims to eradicate the "burning culture" in the North to ward off the annual haze crisis. Nine northern provinces—Chiang Mai, Chiang Rai, Lampang, Lamphun, Mae Hong Son, Nan, Phrae, Phayao and Tak—are considered high-risk areas for bushfires and haze pollution.
The government's surveillance campaign is targeting seasonal crop-burning and slash-and-burn farming techniques employed by farmers to clear land in forested areas. The resulting haze has become a health risk to residents in the North in recent years, particularly for children and the elderly. The problem generally peaks in February and March. Lampang deputy governor Suwan Klaosuthorn said 1,027 fire and haze hotspots were being monitored around the province. About 85 percent of those hotspots are in forest areas.