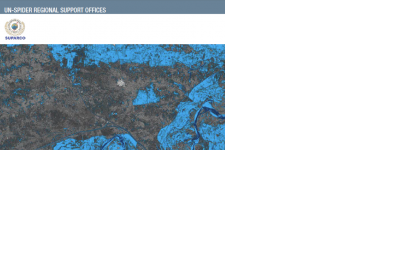 UN-SPIDER's Regional Support Office (RSO) in Pakistan, SUPARCO, has elaborated a booklet on lessons learnt from floods in the country. The booklet is part of a new series of publications on experiences and best practices by UN-SPIDER's RSOs in the application of Space-based information in disaster risk reduction and emergency response.
The booklet "Effective use of Space-based information to monitor disasters and its impacts: Lessons Learnt from Floods in Pakistan" describes SUPARCO's experience in utilizing satellite data for floods in Pakistan, such as SPOT data or Aqua/Terra satellite data. This booklet specifically looks at the floods of 2010, 2011, 2012 and 2013, and the lessons learnt from these experiences.
Pakistan has suffered immensely in the past of devastating floods; the most impactful being the 2010 and 2011 floods. "Due to the huge geographical size of the flood/ rain affected regions, the extent and nature of the damage cannot be properly quantified in a short time through manual field surveys alone," said Imran Iqbal of SUPARCO, one of the authors of the booklet. "In such a scenario satellite imagery is a valuable tool to generate and establish a quick footprint of a disaster. It provides crucial input for the planning of relief supplies by assessing the damage to transport networks, finding escape routes and potential shelter sites for displaced people."